"I'M NOT BUSY" wristband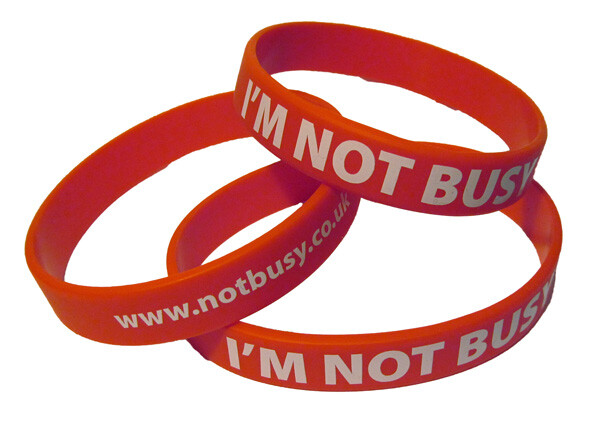 Related Products…
Paperback £5.99
ISBN: ISBN: 978-1-908381-13-2

The developed world is suffering from an epidemic of major proportions, and the disease at the heart of it is busyness. We are addicted to doing one thing after another with as little down-time as possible. This is a sickness, a spiritual sickness. This concise e-book will help you get to grips with Time Wisdom in just an hour.

Paperback £8.99 £8.79
ISBN: ISBN: 978-1-908381-05-7

Connecting the reality and experience of time with the demands and realities of ministry today, this book helps ministers to take positive steps towards navigating the very considerable time pressures that many face today.
Add to Basket!
Price: £1.50
Giving up busyness for Lent? Remind yourself that you're not busy with this fabulous silicone wristband!
Visit www.notbusy.co.uk to find out why you need to give up busyness!
Printed with "I'M NOT BUSY" on one side and "www.notbusy.co.uk" on the other. Designed to fit an adult's wrist (20cm circumference).
Please note: wristbands may be dispatched separately from any books you order and will usually arrive much more quickly.
Ordering 5 or more?
Select the correct pack size (above) when adding to your basket!
£1.50 each, or
£1 each for multiples of 5
60p each for multiples of 20
40p each for multiples of 100