Building Blocks for Bede
Added about 7 years ago by Sacristy Press
Pupils from St Bede's Roman Catholic Voluntary Aided Primary School in Sacriston are commemorating the festival of the Venerable Bede in an unusual way this year, by building a LEGO replica of the saint's tomb.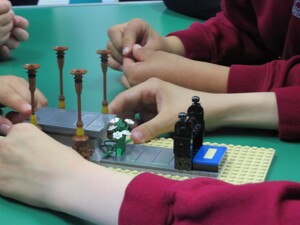 The pupils visited the Cathedral on Tuesday 19th May to build the LEGO tomb, which has now been added to Durham Cathedral in LEGO, a fundraising project which is set to raise over £300,000 in aid of the Cathedral's £10 million Open Treasure appeal. They also visited the tomb of the Venerable Bede in the Cathedral's Galilee Chapel.
The LEGO tomb has been sponsored by Durham publisher Sacristy Press, which donated the funds to the LEGO project but stipulated it should be pupils from a local St Bede's School who should enjoy building the LEGO replica of Bede's resting place at Durham Cathedral.
Richard Hilton, Operations Director at Sacristy Press and a Cathedral volunteer, said:
St Bede wrote the first history of the English people – for Sacristy Press, as a publisher of history and theology, it was therefore very fitting to support the Cathedral's Open Treasure project in this unusual way. Bede died exactly 1,280 years ago, leaving behind a huge wealth of scholarly writing, without which we would know very little about a crucial period in English history. To him we owe a huge debt of gratitude.

Building Lego was a favourite childhood pastime, so helping the children from St Bede's school in Sacriston build Bede's tomb in LEGO, and seeing the excitement on their faces, was wonderful. Hopefully they will remember their day of Lego building – and the legacy of St Bede – for many years to come.
Head of Development at Durham Cathedral, Gaye Kirby, said:
We are extremely grateful to Sacristy Press for their generous donation towards Durham Cathedral in LEGO and delighted that they have invited local school pupils to build the LEGO tomb on their behalf.

The Venerable Bede is renowned as the 'Father of English Learning' so it is wonderful that the pupils from St Bede's Roman Catholic Voluntary Aided Primary School have been able to commemorate the Feast of the Venerable Bede in their own special way, by recreating his tomb in LEGO bricks.
This year, the Feast of the Venerable Bede falls on Monday 25th May and as always, the Cathedral is marking the occasion with a range of special services and events including a study day on Saturday 23rd May and a Sung Eucharist on Monday 25th May itself, starting at 5.15pm. Further details are available on the Cathedral's website at www.durhamcathedral.co.uk/whatson
To find out more about Durham Cathedral in LEGO, please visit: http://www.durhamcathedral.co.uk/donate
---
Please note: Sacristy Press does not necessarily share or endorse the views of the guest contributors to this blog.