PRESS RELEASE: Durham publisher's events at the Durham Book Festival
Added about 6 years ago by Sacristy Press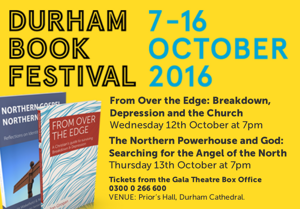 Sacristy Press is delighted to be the only Durham-based publisher showcasing its authors in Durham Cathedral as part of this year's Durham Book Festival.
From Over the Edge: Breakdown, Depression and the Church
A Durham Cathedral Chaplain will be drawing on his own experiences dealing with depression when he speaks at a Durham Book Festival event next week.
The Revd David Grieve, a retired priest in the Diocese of Durham and a Chaplain at Durham Cathedral, will be joining Jon Grogan, author of From Over the Edge, and Professor Chris Cook of Durham University, in Prior's Hall at Durham Cathedral on Wednesday 12 October at 7.00pm.
The event is one of two festival events being hosted by Sacristy Press, the only Durham-based publisher to be featured at this year's Durham Book Festival.
David Grieve will discuss his own experiences of dealing with depression whilst ministering to others, and in particular his use of poetry-writing as a form of therapy. Jon Grogan, author of From Over the Edge: A Christian's guide to surviving Breakdown & Depression (Sacristy Press, 2016), will add a further personal touch to the evening, as he discusses his experience of keeping faith through a breakdown.
Professor Cook, theologian at Durham University and priest at Durham Cathedral, will be contextualising those experiences from the perspective of a psychiatrist, academic and priest.
Richard Hilton, owner of Sacristy Press said:
We are delighted to welcome David, Chris and Jon to join us at this wonderful event which promises to be of interest to anyone struggling with mental health issues either personally or within their church community. Their personal and professional experiences will offer invaluable insights as we ask how the church can best provide support to its members in their darkest moments.
Durham Cathedral's Canon Rosalind Brown, said:
As a working church we often meet people with mental health issues and we always hope to provide the best possible pastoral care to them and indeed all of our visitors who are feeling in need of support. As such, we are delighted to be able to host this event, which raises these important matters and we will be listening to the experiences of the speakers with great interest.
The Northern Powerhouse and God: Searching for the Angel of the North
Sacristy Press will return with its authors to Prior's Hall the following evening, Thursday 13 October, to host The Revd Dr Gavin Wakefield and guests as they discuss the religious and spiritual identity of the North of England. The Northern Powerhouse and God: Searching for the Angel of the North is part of an ongoing project, initiated by the Archbishop of York, bringing together prominent practitioners and academics to explore what it means to proclaim the gospel in the North of England from many angles: housing estates to ancient cathedrals, Biblical reflection to street evangelism, history to economics. Gavin Wakefield edited Northern Gospel, Northern Church (Sacristy Press, 2016), which includes chapters by each of the speakers at this event.
Tickets for both events are £5 (£4 Concessions) and can be booked from the Gala Box Office by calling 03000 266 600, or via the Sacristy Press website.
ENDS - ENDS - ENDS
Media Contacts at the Cathedral:
PR and Media Officer, Rebecca Turner (Mon and Tue only) 0191 3744585
Head of Marketing and Events, Ruth Robson on 0191 3744054
Marketing Officer, Catherine Hodgson on 0191 3744067
Notes to Editors
Sacristy Press was founded in 2011 to publish history and theology, including historical fiction. It is based in the historic academic city of Durham in North East England. More information about Sacristy Press can found on their website at www.sacristy.co.uk. For review copies of any Sacristy Press book, please contact Richard Hilton (richard.hilton@sacristy.co.uk) with details of your publication or media outlet.
Durham Cathedral is a Christian Church of the Anglican Communion, the shrine of St Cuthbert, the seat of the Bishop of Durham and a focus of pilgrimage and spirituality in North East England. It inhabits a treasured sacred space set in the natural and human landscape of the World Heritage Site.
Its purpose is to worship God, share the gospel of Jesus Christ, welcome all who come, celebrate and pass on its rich Christian heritage and discover its place in God's creation.
---
Please note: Sacristy Press does not necessarily share or endorse the views of the guest contributors to this blog.