Stuart Fisher shortlisted in prestigious Sunday Times competition
Added about 6 years ago by Sacristy Press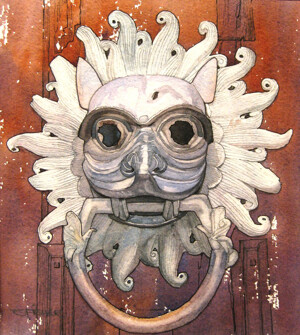 Stuart Fisher, the award-winning artist behind Mostly Durham, has been shortlisted in the 2016 Sunday Times Watercolour Competition.
In its 29th year, the competition is the largest and most prestigious prize for contemporary watercolour painting in the UK. Following a digital submission, around 250 artists are invited to send work for final judging. The judging panel includes:
Sara Dudman Artist
Simon Oldfield Curator and gallery owner
Desmond Shawe-Taylor CVO Surveyor of the Queen's Pictures
Louis Wise Critic & Writer, The Sunday Times
This is the second time Stuart's art has been shortlisted for final judging in this competition.
To celebrate the success of his beautiful book Mostly Durham, Stuart will be exhibiting his work in the stunning setting of Durham Cathedral from 2 September to 28 October 2016. The exhibition will feature new works by Stuart, including work featuring Durham City, Prague, Venice, London, Sienna and Amsterdam. His works, and copies of Mostly Durham, will be on sale. More details on Durham Cathedral's website.
Mostly Durham is a beautiful coffee-table book collecting together many of Stuart Fisher's art from around the city and county of Durham, as well as further afield, including locations such as York, Oxford, Bath, Venice and Rome. Many of the watercolours and ink-on-paper drawings feature Durham Castle, Durham Cathedral, Durham University and the streets of Durham. Copies are available to order from Sacristy Press or in person from Durham Cathedral Shop.
---
Please note: Sacristy Press does not necessarily share or endorse the views of the guest contributors to this blog.