Fuzzy Church
:
Gospel and Culture in the North of England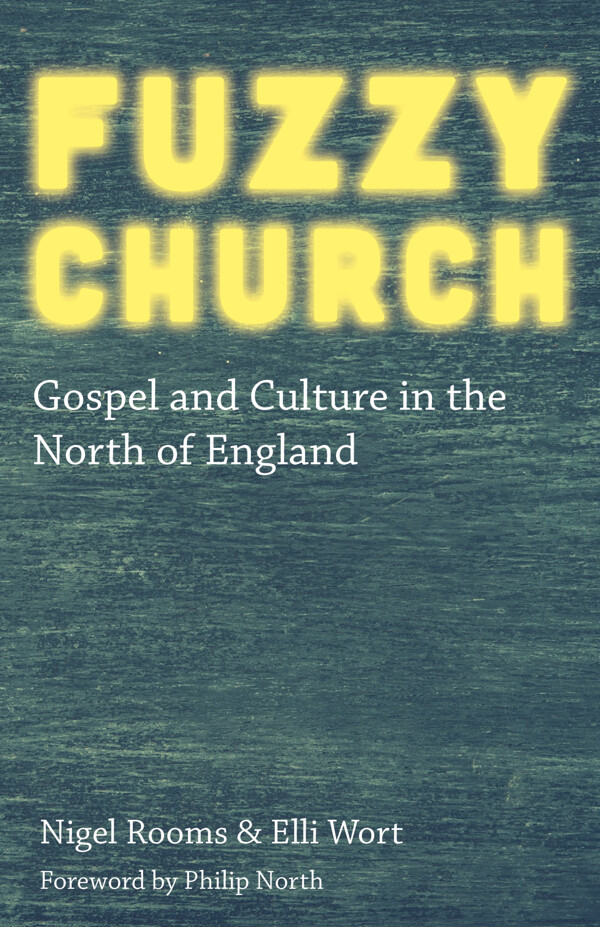 Buy this book!
Price: £16.99
E-Book Availability
Using a Windows PC or Mac? Download the Kobo app to enjoy our e-books!
Book Details
Format: Paperback (149 pages)
Publisher: Sacristy Press
Date of Publication:
1 May 2021
ISBN: 978-1-78959-167-5
Permission must be requested to reuse any content from this book. Request Permission
​What does the good news of Jesus look like in the North of England? Is there such a thing as a "northern gospel"?
Nigel Rooms and Elli Wort analyse what the North actually is, and why we need to study our context if we want to understand more about God and God's ways. They look at the current religious climate in the North where many churches are closing. They explore how their detailed research among northern churches demonstrates a gospel characterized by fragility and freedom, but full of authenticity, community and humour. They describe "fuzzy" churches where the boundaries of the church and its worship are less fixed and where there is more of a flow between churches and their world. They discover that closing churches might provide the "compost" for what God is doing next.
​Nigel Rooms works part-time developing a process for deep cultural change in UK Christian congregations over the long term with the Church Mission Society.
Elli Wort is a Tutor with the Church Army, equipping their Commissioned Evangelists to share God's love and transform their communities through faith shared in words and action.
​The vulnerability of the Northern Church is her USP in providing lessons for the wider Church; as so often salvation is brought to us from the "outsider". Those of us who minister in the North know this, and now we have research evidence that backs this up! COVID-19 has heightened the inequalities in our society, challenging the Church's current priorities for mission and ministry. The publication of Fuzzy Church is timely and valuable: there are lessons here for the whole Church and a clear mandate for investment in a "failing" Northern Church because "something is happening" here!

Claire Dawson, Vicar of St Mary's Bramall Lane, Sheffield
Having been brought up in Kent, but spending most of my ministry in the North of England, I was greatly encouraged to read the reflections in Fuzzy Church. The authors have resisted the stereotypes of Northernness and offer a deft yet gentle enquiry into the distinctive nature of the "fuzzy-edged" churches they have studied. Their use of organic imagery, their willingness to embrace nuance, their engagement with broad theological themes make for an interesting read. This book brings us through an examination of culture and context to ask, "Can the churches of the North give us a clue to the transformation of the post-Christendom church?"

Barbara Glasson, President of the Methodist Conference, 2019–20
The 2016 book Northern Gospel, Northern Church raised important and pressing questions about the nature of the gospel in the North of England and how God's mission was finding expression there. This book, based on some well-designed and targeted qualitative research, assembles a set of substantial and illuminating responses to those questions, taking forward the discussion in informed ways. The authors quote the Brazilian Bishop Pedro Casaldaliga for whom "the universal word speaks only dialect", and find how "something is happening" in the neighbourhoods and villages of the North of England, something that manifests God's mission. The book provides an engaging object lesson in how churches in any region of the world, global North or global South, can seek out God's mission in the unique textures of their local life and find encouragement and inspiration in that. In the Christian tradition renewal and growth has nearly always come from the grass roots and margins of church life, which makes this book indispensable reading for anyone who cares about Christian mission.

Stephen Spencer, Director for Theological Education at the Anglican Communion Office, London
Nuanced, well researched, and wide-ranging, Rooms and Wort's book builds on Northern Gospel, Northern Church to investigate the crucial question of the relationship between the local church and the community it serves. At a time when the parish system is coming under increasing pressure, Fuzzy Church explores the importance of context in mission and evangelism.

As a Northerner recently arrived in London, this book speaks to me of my roots, and challenges me to be "taken by the hand" (Chapter 5) to explore what God is already doing here and now, so that I can join in the dance.

Catherine Pickford, Archdeacon of Northolt, Diocese of London