Saints and Holy Places of Yorkshire
:
A Pilgrims' Guide to God's Own County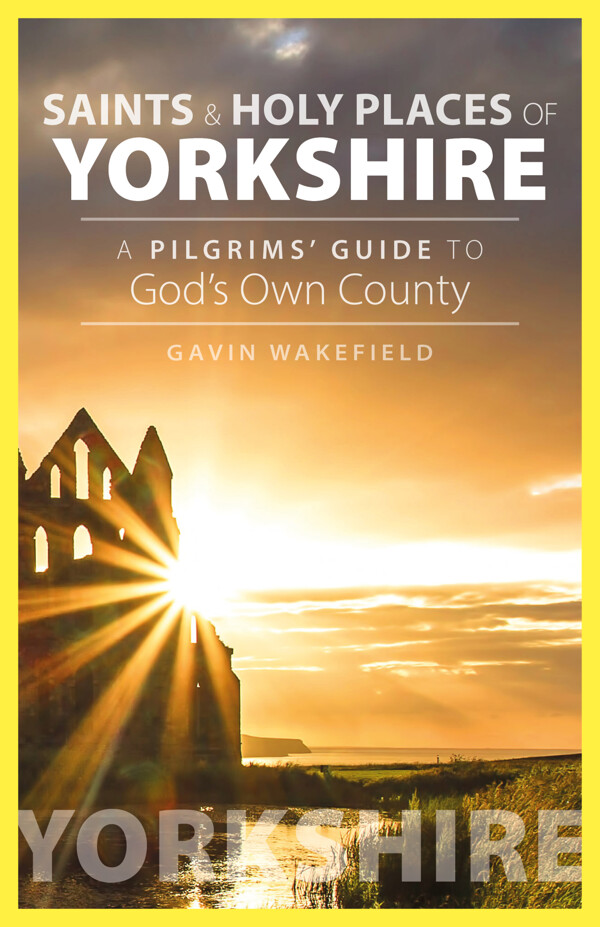 Buy this book!
Price: £12.99
E-Book Availability
Using a Windows PC or Mac? Download the Kobo app to enjoy our e-books!
Book Details
Format: Paperback (128 pages)
Publisher: Sacristy Press
Date of Publication:
1 June 2020
ISBN: 978-1-78959-103-3
Permission must be requested to reuse any content from this book. Request Permission
"This excellent book meant that I could imaginatively undertake a virtual pilgrimage without ever stepping outside my own front door. … This book can help the people of Yorkshire, and people who love Yorkshire, to understand our Christian heritage."
—The Archbishop of York
Yorkshire has a long and rich Christian history, stretching back beyond the Vikings to Roman Britain. This unique guidebook takes us to meet some of the people and places that formed Yorkshire's Christian heritage, from St Hilda of Whitby through to William Wilberforce. This is both a practical and spiritual guidebook to the many holy places in God's Own County. A seven-day route takes in many popular—and some less well-known—places in Yorkshire's unique landscape. Explore the sites where some of the key characters from different periods of Christian history lived and worked. Discover the fascinating history of the people and places, with historical notes, practical information and prayers for both visitors and armchair pilgrims alike.
Saints and Holy Places of Yorkshire enables visitors to the many holy places in God's Own County to understand more fully the lives of the Christians who are responsible for the pilgrimage connection. The intention is to help the reader develop their spiritual life through reflection on the lives of familiar and less familiar figures from the Christian story in Yorkshire. Each Day has four elements—People, Place, Prayer, and Practicalities—and brief information about other places with spiritual significance to visit in the vicinity.​
Gavin Wakefield has given us a delightful, devotional travel guide to Yorkshire. Packed full of fascinating anecdotes and stories, it inspires and challenges in equal measure. Written in bite-sized chunks, it's a great companion to one's daily prayers and a lovely gift to be shared.

The Bishop of Selby, The Rt Revd Dr John Thomson
[Gavin Wakefield is] well informed about the history and heritage of the county and in this book he shares his affection and knowledge in an engaging and informative way. … I was particularly taken by the prayers which are well thought out and do real justice both to the places and the theological reflection which might result. They are accessible and might form the basis of a Yorkshire collection of prayers in their own right. … For those engaged upon [a pilgrimage] in the holy land of Yorkshire, this will be a fascinating and informative guide.

John Holdsworth, Rural Theology
For the novice, Gavin Wakefield's book would be an ideal accompaniment to their visit, and would transform it from a tourist endeavour into a mini-pilgrimage, with space to absorb the diverse history and geography of the largest county in England, and reflect on matters pertinent to faith today.

Wakefield's personality comes across aplenty in the book. This is endearing as one gains an insight into a Christian believer for whom the ordinary is important, and who wants to share his faith for the benefit of others.

It is not an historical work, yet it paints a picture of a diverse county which inspires love, devotion and pride, and could act as a gateway to further exploration.

Christopher Johnson, New Directions
Charming and entertaining. … Using the book as an actual pilgrim guide would be both educational and spiritually refreshing.

Adrian Roberts, Transforming Ministry
The route suggested in the book goes from the north and east of the county to the west and south. Beginning at Whitby with St Hilda makes sense geographically—the north-east corner of Yorkshire—and historically as it is one of the earliest Christian sites in the county. After a day on the North York Moors, the second day takes in the Wolds and southern coast, a prosperous area in the medieval period and with a rich legacy from God's people, in lives changed and impressive buildings. It's not only medieval, for this is where the social reformer William Wilberforce was brought up in the eighteenth century and had his family roots.
York has two days allocated, reflecting its significance as the second city in England for many years. Its Christian history goes back to at least the fourth century: York Minster is one of the great buildings of Europe, not just England; there was a troubled history at the Reformation; and it still has many vibrant Christian communities in diverse churches. The fifth day is focused in the Yorkshire Dales and some of the great monastic sites, including Fountains Abbey, Jervaulx and Ripon. Some of these were initially supported from York but they went on to have their own strong communities for centuries.
Further west and south communities grew much larger as the Industrial Revolution progressed and their Christian roots reveal a different history to other parts of the county. God's people responded to these changes in a variety of ways, extending the social range of historic churches and leading to the formation of new types of church and ways of living the Christian faith.
The main focus is on the people who have made the places holy and important. We have stories of famous and not-so-famous people and what they achieved in their own day and how they speak to us today. The Places section describes each site as a context for the stories of the holy people as well as giving details useful on a visit. Each day has a prayer, linking us to the places and the people. For anyone making the journey for themselves the Practicalities sections give some guidance about getting to the places and where possible information about specific pilgrimage routes.
As I prepared to take up my new responsibilities as Archbishop of York, my hope was to make some journeys around Yorkshire to connect with some of the Northern saints and the places connected with them, like Whitby and Ripon and York itself. Their tenacious witness to the gospel has been the foundation of the church today. I reckoned that visiting these places and praying there might help my own preparation. Well, the coronavirus pandemic put paid to that idea. However, receiving a copy of Gavin Wakefield's excellent Saints and Holy Places of Yorkshire: A Pilgrims' Guide to God's Own County meant that I could imaginatively undertake a virtual pilgrimage without ever stepping outside my own front door. Of course, I still very much look forward to visiting the places themselves, but till then this book can help the people of Yorkshire, and people who love Yorkshire, to understand our Christian heritage. And not just the saints of the distant past, but also those from more recent times. All this will, I pray, help me and others to lead more holy lives ourselves. For the purpose of any pilgrimage, be it virtual or actual, is that we might come closer to Christ and be renewed in our witness to the gospel.

The Archbishop of York, The Most Revd and Rt Hon. Stephen Cottrell