PRESS RELEASE: Black Friday to Good Friday
Added about 7 years ago by Sacristy Press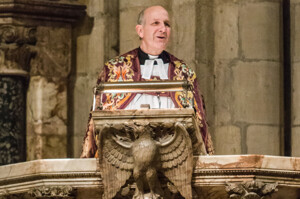 The former Dean of Durham, Michael Sadgrove, who recently released an edited collection of sermons from his time at Durham Cathedral (with a foreword by Archbishop Justin Welby), says that Black Friday is "excellent in theory but the practice is rather different" in a blog article published today.
He argues that Black Friday reminds us of Good Friday, when Christ empties himself upon the cross, and that the spirit of Thanksgiving must be kept alive through to Christmas Day, which this year falls on a Friday.
The full article can be read on the Sacristy Press blog.
-ENDS-ENDS-ENDS-
Additional Information
Michael Sadgrove was Dean of Durham from 2003 to 2015. During his 12 years at Durham Cathedral he has preached many well-crafted sermons on a wide variety of topics, from the Iraq invasions to "digital lambs". Christ in a Choppie Box: Sermons from North East England is an edited collection of some of his finest and most thought-provoking sermons from his time in Durham. The foreword is by the Archbishop of Canterbury, Justin Welby.
An interview with Michael Sadgrove is available.
Christ in a Choppie Box: Sermons from North East England was published in 2015 by Sacristy Press, Durham, and is available to order from www.sacristy.co.uk (ISBN: 978-1-910519-10-3). For review copies, please contact us with details of your publication or media outlet.
Sacristy Press was founded in 2011 to publish historical and theological titles, including historical fiction. It is based in the historic academic city of Durham in North East England. More information about Sacristy Press can found on their website at www.sacristy.co.uk.
Related Twitter handles: @SacristyPress, @Sadgrovem
Media Enquiries
For additional quotes and to arrange Interviews, please contact Keith Blundy in the first instance. Media are respectfully asked not to directly contact anyone quoted or mentioned in this News Release prior to contacting Keith Blundy. This request is to ensure a coordinated and timely response to any enquiries.
Keith Blundy can be contacted at:
07900 583131 / 01325 301220 | pr@aegies.com
---
Please note: Sacristy Press does not necessarily share or endorse the views of the guest contributors to this blog.