Exclusive Interview with the Dean of Durham
Added about 7 years ago by Sacristy Press
Ahead of his retirement as Dean of Durham and the launch of his new book, we asked Michael Sadgrove about his time at Durham Cathedral, the role preaching has played in his ministry, and retirement.
Archbishop of Canterbury Justin Welby wrote:
Michael's sermons are both beautiful and inspiring. They draw the reader face to face with God in surprising ways, always feeding the spiritual appetite—yet leaving me thirsty for more of what we have just tasted. They are beautifully crafted, and admirably concise. The use of English is impeccable and the scholarship profound. The eclectic references to art and literature demonstrate an aesthetic talent and theological versatility that is exceptional.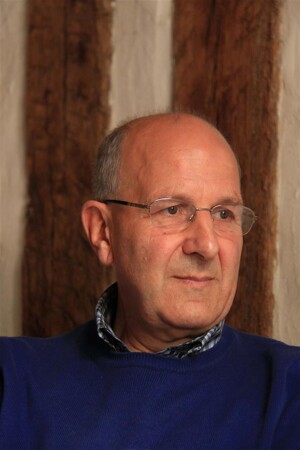 What has your time as Dean of Durham meant to you personally and why is the preaching of sermons so important?
Where do I begin? I have loved my time here, and a lot of it has to do with Durham's powerful spirituality and connection with the saints, its strong "sense of place" in the North East (which inspired me to write my previous book, Landscapes of Faith, to celebrate the visit of the Lindisfarne Gospels to Durham in 2013), and the wonderful people of this region, this Cathedral community, this city and this diocese. So I see Christ in a Choppie Box as a kind of grateful tribute to a place and to people who have greatly enriched me. Much of my preaching has been an attempt to try to articulate the Gospel in the context of North East England, especially in the sermons in the last part of the book which are about specific North Eastern places and people.
I have always taken preaching seriously. I believe it is right at the heart of public Christian ministry, even in the twenty-first century. A preacher is a local theologian and spiritual guide, so preaching deserves the considerable investment of preparation that we put into it. We are very fortunate in this Cathedral with the consistently high quality of preaching; I believe there are those who are drawn to cathedrals by the preaching as much as the liturgy, music and architecture. It matters that we do everything we can to present "intelligent Christianity" to the church and the world, promote a reflective wisdom in people, stimulate and stretch the imagination and vision, speak of God in ways that are not only faithful to the scriptures but also connect with our own times and contemporary concerns.
Your sermons cover a period that when history is written will be seen as a pivotal point in nations' and the world's history. Which sermons stand out from a historical/religious/topical context?
My anthologist Carol Harrison has included sermons about the 2004 tsunami, the tenth anniversary of 9/11, Ebola, the Holocaust, global terrorism and reconciliation. I have preached about the arrivals and departures of Bishops of Durham, and there are also a number of pieces about ministry in the Church. I was installed on the very day the Iraq War broke out in 2003 so needed to say something about that in my very first sermon in the Cathedral.
What prompted you to write the book in the form of a collection of sermons?
I wanted to offer a "farewell gift" to those who had told me that they have appreciated my preaching here. I know that this kind of book seem a little old-fashioned – who reads sermons these days? – but I have tried to craft my preaching in a way that would transfer to the printed page and so have some kind of life after the event. The book also works as a collection of reflections and meditations.
What would you like a reader of the book to take away as a lasting impression?
I'd like to think readers find their minds stimulated, their imaginations stretched, and their hearts warmed. I hope they may find themselves asking their own questions about wisdom, faith, prayer, and what it means to be a Christian believer in the contemporary world.
How do you see your writing developing in retirement?
I greatly enjoy writing and hope to do more in retirement. Up to now, I have published in four areas: biblical studies, ministry, spirituality and Christian heritage. In all of these, I am writing primarily for the thoughtful layperson who wants to engage more deeply, rather than for academics. I'd like to write out of my experience of having spent almost 30 years in full-time Cathedral ministry in very different cathedrals, as dean in two of them. What interests me are obvious topics like their heritage and how this can play a key part in their mission, how we interpret the spirituality of cathedrals to the vast numbers of people who visit them, the roles of art, architecture and music in their life, and not least, the mission of cathedrals as flourishing centres of Christian community, outreach, worship, and activity within the wider church. I should like to contribute to the increasing body of literature on these topics. But I also hope to write in a more general way about Christian life and faith. One project may be to produce something from this year's ordination retreat addresses I was privileged to give in Durham on the Lord's Prayer and Christian Ministry.
---
The Very Revd Michael Sadgrove retires as Dean of Durham at the end of September 2015. His new book, Christ in a Choppie Box: Sermons from North East England, will be launched in Durham Cathedral Shop on Tuesday 22 September 2015 at 6.30pm.
Christ in a Choppie Box, published on 1 October 2015, is available to order from Sacristy Press as a paperback, and from all main e-book retailers.
---
Please note: Sacristy Press does not necessarily share or endorse the views of the guest contributors to this blog.