David
Gunn-Johnson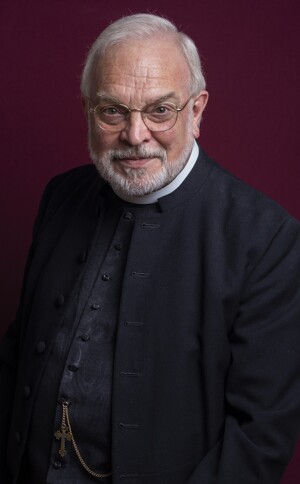 David Gunn-Johnson was born in London in 1949, the first child of a Pentecostal Minister. His journey from those beginnings to his present priesthood in the Church of England, affirming the Catholic identity of that Church and his own place within it, is fascinating but far too long to tell in a brief biography.
David had a many faceted commercial career with some time spent in the meat industry. This, when he arrived at St Stephen's House Oxford, where he trained for the priesthood, earned him the soubriquet "British Beef". In Oxford, David rediscovered a fascination for historical exploration and research, which continued after ordination. This issued in a study of medieval military spirituality for a Lambeth Diploma, followed by a Lambeth Masters degree for work on the Oxford Movement.
Since ordination in 1981 he has served two curacies, then was Team Rector of Colyton in Exeter diocese and afterwards archdeacon of Barnstaple. As archdeacon, he held many other roles both locally and nationally. David was instrumental in pioneering the work of what is now called "Safeguarding" against the sometimes acute opposition of the 1990s and had several roles in the work of Ministry Division, as it was then known. In his work as an archdeacon, his primary focus, in the far reaches of north Devon, was the care of the clergy and church officers. Far from being the bishops "rottweiler", he was known as the "teddy bear with teeth".
Local theatre has been a long-standing love, either as an actor, director, writer, or backstage crew. This continued throughout the time of curacies and incumbency, with a short hiatus during David's archidiaconate. Beginning in the late 1960s as "Toad" in Toad of Toad Hall, with a visit to the Edinburgh Fringe in the 70s, David regards his 2017 role as "Sir" in The Dresser as being the apogee after which he seeks only "bit parts", but the end is not yet. In retirement, David serves as Priest Vicar at Exeter Cathedral and for the past few years has written, directed and narrated the Exeter Nativity which, because of its close resemblance to pantomime is now called, the Pantivity.
David and his wife, Susan have two daughters who, together with their husbands and three granddaughters make up the immediate family which he describes as "a constant joy".
Unlike his favourite author, the much lamented Terry Pratchett, David is not yet dead.
Hardback £30.00


The life of Mamerto Gueritz, an Anglo-Catholic priest in the West Country during the ritualist controversy in the late 19th century.