Sacristy Press merchandise is here!
Added about 9 years ago by Sacristy Press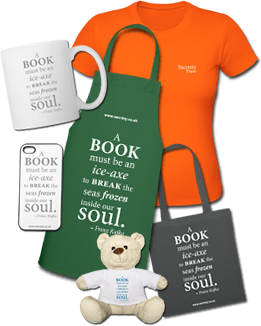 Show off your love of books with our gorgeous leisurewear and gift range! Since starting to publish books almost two years ago, we have been longing to brighten your lives with other splendid merchandise for your delectation.
We are delighted to have partnered with Spreadshirt to bring you everything from aprons to hoodies, and mobile phone covers to mugs – you'll find something for everyone!
Right now the range includes items featuring Kafka's quotation, "A book must be an ice-axe to break the seas frozen inside our soul", as well as Sacristy Press branded items. We welcome suggestions for future products, so if you don't find something you want, just drop us an email and we'll see what we can do!
For now, why not check out our mugs, t-shirts, or phone cases to show off your love of all-things-reading?
Please note: the merchandise store is run on our behalf by Spreadshirt. Please address all order enquiries to them using the contact details found on the merchandise store.
---
Please note: Sacristy Press does not necessarily share or endorse the views of the guest contributors to this blog.