Queen Visits Belsen Concentration Camp
Added about 7 years ago by Sacristy Press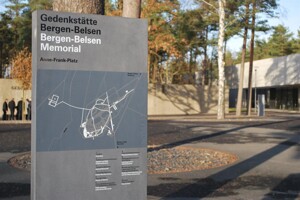 Today the Queen is visiting the only concentration camp to be liberated by the British, as part of a three-day state visit to Germany.
A new book commemorating the liberation of the Belsen Concentration Camp by members of the Durham Light Infantry (DLI) was recently published by Durham-based Sacristy Press.
Liberating Belsen: Remembering the Soldiers of the Durham Light Infantry by David Lowther introduces the DLI and the context of concentration camps, and then documents the DLI's role in the camp's liberation during April and May 1945. It is illustrated with photographs and maps.
The camp had been liberated by a small detachment of other British troops three days before the DLI arrived but, overwhelmed by the scale of what they found, they called in the 113th Light Anti Aircraft Regiment, many of whom were from the DLI.
They found a picture of horror with thousands of starving and neglected Jews and soviets, many seriously ill. Tens of thousands of inmates were dead or dying, with many suffering from dysentery, typhus and extreme malnutrition.
David Lowther, a retired teacher and WWII novelist living in Durham, said:
One of the striking things about the liberation was the restraint that the DLI showed towards the guards.

In other camps, there were reports of SS officers being shot, or troops handing guns to prisoners to take revenge on their captors, but, despite the anger felt by the DLI men, there are no reports of that having happened at Belsen. Indeed, they were praised for the way they behaved.
The book is based on archive material, including recorded interviews with some of the men involved. David said:
The overriding emotion was anger but once they had given the interviews it was as if they put it to the back of their memory.

They wanted the world to know what had happened at Belsen but after that they wanted to get on with the rest of their lives and not speak of it again.

There were even reports that some of them would not visit Germany. I heard of one businessman who was sent to Cologne on business but turned round and left.

I wrote the book primarily so that young people know what happened. It is still modern history, just seventy years ago, but sometimes when you read about it or see film footage it can be difficult to believe that it happened.

We cannot allow the memory to fade and must make sure that young people are aware of what happened at places like Belsen. We must do all we can to ensure that it never happens again.
Learn all about the liberation of Belsen in David Lowther's new book, Liberating Belsen, available from Sacristy Press in paperback and from all major e-book retailers.
---
Please note: Sacristy Press does not necessarily share or endorse the views of the guest contributors to this blog.