AUTHOR TALK: "The shape of the Bible and its impact on language and culture"
Added about 5 years ago by Sacristy Press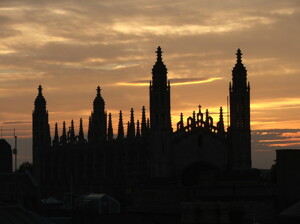 Don't miss Richard Noble's illustrated talk about the linguistic impact of the King James Bible – Sunday 7th May in Cambridge.
Few people realise the extent to which English language and culture reflect the words and values of the Bible. Literally hundreds of different Bible phrases are used everyday with few people having any idea where they come from. In his illustrated talk Richard Noble explains how, at a time when the Bible is being increasingly sidelined by today's secular values, it needs to be recognised as an indispensable part of our heritage. He tells the story of how the book, The Writing on the Wall: Everyday Phrases from the King James Bible, came into being. A phrase is taken in turn from each of the Bible's many books and used to reveal the nature of each book and its place in the Bible as a whole. The book goes on to explore how the phrases have been used in political, social and literary life. In this way it becomes a useful guidebook, bringing the Bible alive to a wide audience, whether the interest is purely linguistic, cultural, theological, or devotional. Unlike so much other material of this nature, no prior familiarity with the scriptures is assumed and the book is ideal both for dipping in to and for giving away to somebody else.
The talk will be on Sunday 7 May from 2pm in the Chetwynd Room, King's College, Cambridge. Preceding his talk, the author will be preaching at Matins in the chapel from 10.30am on a theme related to the book.
All are welcome. To ensure a place, please contact: Ministry@elydiocese.org or 01353 652713.
The Writing on the Wall: Everyday Phrases from the King James Bible is available in our online shop.
---
Please note: Sacristy Press does not necessarily share or endorse the views of the guest contributors to this blog.