LIVE TWEETING: The opening of St Cuthbert's grave, 190 years on
Added about 5 years ago by David Willem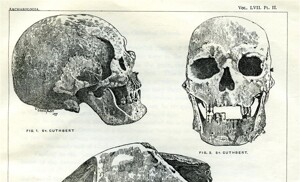 UPCOMING EVENT: David Willem will be live tweeting the opening of St Cuthbert's tomb in Durham Cathedral, 190 years to the day since it occurred.
In his book, St Cuthbert's Corpse: A Life After Death, David Willem explores accounts of the openings of St Cuthbert's tomb at Durham Cathedral, from the medieval period to the present day. On Wednesday 17 May 2017, he will be live-tweeting one of these historical accounts.
This Wednesday is the 190th anniversary of the opening of St Cuthbert's grave by the Cathedral Librarian James Raine. On the morning of 17 May 1827, Raine and a number of associates broke into the tomb behind the Cathedral's high altar that had long been reputed to be the last resting place of the famous Anglo-Saxon saint and bishop.
Raine, a leading antiquarian, wanted to find out if St Cuthbert was really buried there and whether there was any evidence that his corpse had ever been "incorrupt" – as had always been claimed by monks during the medieval period. Spotting his opportunity while the office of Dean was vacant, Raine persuaded a group of colleagues and workmen to open the grave in what was in effect an unofficial and freelance investigation.
On Wednesday, David is going to live-tweet what happened that day based on Raine's comprehensive book on the investigation and on the recollections of one of the other people present, William Gilly.
It is a perfect subject for a tweeting because, like an ideal classical drama, all the action takes place during one day, follows one story, and happens in one place – the shrine of St Cuthbert in Durham Cathedral on 17 May 1827.

David Willem, author of St Cuthbert's Corpse
Follow @daviddwill on Twitter on Wednesday 17 May 2017 to find out how events unfolded 190 years ago. Want to know more about the six known openings of St Cuthbert's coffin? David Willem's book, St Cuthbert's Corpse: A Life After Death, reveals all!
---
Please note: Sacristy Press does not necessarily share or endorse the views of the guest contributors to this blog.