Collection of Poems about Depression and Christianity by Retired Priest Launched at Durham Cathedral
Added about 5 years ago by Sacristy Press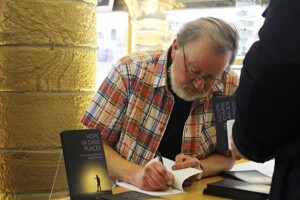 PRESS RELEASE: Sacristy Press, based in Durham City, launched a new collection of poems written by a depressive priest on Blue Monday (Monday 15 January) at Durham Cathedral.
"Hope in Dark Places" is a 50-page collection of poems about depression and Christianity. Written by David Grieve, the book explores the depths of depression through the poetry of this Anglican priest.
The most miserable day of the year, Blue Monday is the name given to the third Monday of January which has been awarded the gloomy title due to a combination of post-Christmas blues, cold dark nights and the arrival of unpaid credit card bills.
David Grieve is an Anglican priest, married with three grown-up children, who retired in 1989 at the age of 37 due to a breakdown. He writes poetry as both therapy and vocation.
These poems are not about curing Depression, but about the companionship of Christ within it, and I have written them over a thirty-year period, some during and some after illness or respite.

I have arranged them in alphabetical title order and this seems to convey the changeability of my experience of Depression. I hope that they will be a resource that readers may dip in and out of whenever it is helpful."

I dedicate and offer them to all who, like me, are Depressives, whether or not they are currently ill, sometimes ill, or in remission. Christ has blessed me in my many illnesses with his presence and the help of so many loved ones and health professionals, and I hope that this will be also the reader's experience.

David Grieve, author of Hope in Dark Places.
The book was launched by Sacristy Press, a small, independent publisher based in Durham City. It publishes theology, history and historical fiction. Founded in 2011, it is owned and run by Richard Hilton and Thomas Ball.
Hope in Dark Places explores the depths of depression through the poetry of David Grieve. Readers will be moved to tears but also laugh unexpectedly. You will feel the raw reality of suffering and feel Christ's presence in its midst.

This new book of poems emerged out of a sell-out event we organised at Durham Book Festival in 2016 about how to survive as a Christian with mental health problems. Although the topic may sound quite gloomy, it has been generating significant interest both locally and nationally. The book has been enthusiastically endorsed by bishops, an author, and a qualified clinical psychiatrist who is now a professor of theology at Durham University.

Richard Hilton, Sacristy Press
Hope in Dark Places is now available in the shop at Durham Cathedral or from the Sacristy Press website (www.sacristy.co.uk), where it can also be downloaded as an e-book.
Notes for Editors
Endorsements:
Depression is both an experience that everyone has had—a passing lowering of mood—and also a common mental disorder (or illness). Simply speaking, depression is considered to be an illness when it lasts a long time or becomes bad enough to interfere with everyday life.

One in five people suffer from this kind of depression at some point in their lives. One in five people, therefore, know first hand what it's like to be depressed—and the rest of us will all know someone who has been depressed. Yet, depression remains widely misunderstood, not least amongst Christians.

Chris Cook, Professor in the Department of Theology and Religion, Durham University
In these brave poems, David, deeply conscious that he is a loved child of God, never flinches from, nor spares us from, the reality of the Depression that he lives with and in so doing he leads us all into a deeper awareness both of the experience of Depression and how, for him, Christ is found as a companion within it. These are poems to be taken slowly and lived with. They will be a real gift to many of us," said

Mark Bryant, Bishop of Jarrow
In this collection, David Grieve bravely offers fresh light on an age-old experience. These moving and perceptive poems will help those both inside and outside the darkness they so eloquently describe

John Pritchard, former Bishop of Oxford
David expresses in these poems not only how the human mind can feel totally ravaged by depression, but also how such authentic creativity and spirituality can be born from the sufferer's despair. This poetry is brave and raw—it often makes for uncomfortable reading but is all the more important for this.

Jon Grogan, author of From Over the Edge
David Grieve is an Anglican priest, married with three grown-up children, who retired in 1989 at the age of 37 due to a breakdown. He writes poetry as both therapy and vocation. David currently volunteers as a chaplain at Durham Cathedral and is married to Jane, who is also a priest. He has had poetry published on many topics, including faith, health and vocation.
Sacristy Press was founded in 2011 to publish history and theology, including historical fiction. It is based in the historic academic city of Durham in North East England. More information about Sacristy Press can found on their website at www.sacristy.co.uk. For review copies of any Sacristy Press book, please email media@sacristy.co.uk with details of your publication or media outlet.
Durham Cathedral is a Christian Church of the Anglican Communion, the shrine of St Cuthbert, the seat of the Bishop of Durham and a focus on pilgrimage and spirituality in North East England. It inhabits a treasured sacred space set in the natural and human landscape of the World Heritage Site. Its purpose is to worship God, share the gospel of Jesus Christ, welcome all who come, celebrate and pass on its rich Christian heritage and discover its place in God's creation.
---
Please note: Sacristy Press does not necessarily share or endorse the views of the guest contributors to this blog.