The Beginnings of an Artist
Added about 2 years ago by Stuart Fisher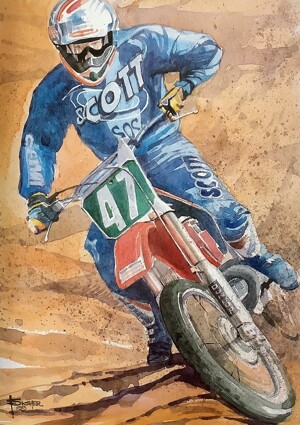 GUEST BLOG: What are the makings of a professional artist? #BookOfTheMonth author Stuart Fisher tells his story.
Image © Stuart Fisher
I hadn't picked up an artist's brush for years. Not since I'd left school at the age 17. Luckily I'd managed to gain employment at my first job interview and on 13 September 1971 commenced working as a trainee Architectural Technician in a local government Architects Department, learning my trade on the job and gaining technical qualifications via day release. I worked with teams of designers and engineers, assisting in the design of schools, libraries, fire and police stations as well as extending, adapting and maintaining the existing building stock. I enjoyed it and eventually became good at it, gaining the confidence of my employer to the extent that shortly after I took early retirement at 51, one of my buildings won a prestigious design accolade awarded by The City of Durham Trust.
In the late 1990s under the "New Labour" Blair government, working practices in local government slowly began to change. Checks and balances known as "standing orders", which had been built up and adapted over decades, were slowly eroded. These were the blueprints for how local government operated and were there to ensure that public money was being spent wisely and for the public good. They were also there to ensure value for money, especially when outside bodies tendered for work. This erosion allowed what I and many colleagues conceived as dubious practices to flourish. Design work started to be outsourced as staff levels were cut. Private sector Project Managers were employed and physically installed alongside in-house staff at great expense to the public purse. This was despite a remit to cut costs by finding more economic methods of design and construction. This in turn sowed seeds of discontent especially among staff more qualified than themselves to carry out the tasks in hand. A job which normally might well be for life looked decidedly at risk, and I started to contemplate what I might do if the worst happened.
Around this time, a young colleague had an accident whilst competing in a motocross competition. This resulted in his being paralysed from the neck down and, doubtful that he would ever to return to work, a few of his fellow workers organised fundraisers in his name. I felt that despite not being a particularly close friend, I should at least try to do my bit to help. But what?
The pressures at work were at that time having a detrimental effect, as the future from my perspective looked bleak. At that time my wife and I regularly met up with friends at weekends to listen to live music at a local pub. On one occasion, a disabled but highly accomplished lead guitarist was fronting a band. Carried away by the sound, I considered how much better off I was than the man in front of me, and how much better off physically he was when compared to my recently injured colleague. How could I be so miserable, so self-indulgent, so consumed by self-pity? Then I had a flash of inspirational thought. When I say flash, I actually mean a physical explosion of light simultaneous with the thought. I had the answer to my question: I would paint a picture of my friend on his motorcycle and raise money from it.
This young man was a fighter. He was still able to move his head, arms and forearms and, with the pitiful remnants of his physical self, he eventually returned to work. With his agreement and the loan of a photograph, I produced an action portrait of him in competition. One of his sponsors Dunlop had their name emblazoned on the front forks of his bike. Once completed I cold called the local Dunlop factory and persuaded the MD to purchase the painting on behalf of the company. This raised £1,000 and to my knowledge it is still displayed in the factory boardroom. The painting was scanned prior to the sale and, with funds provided by our trade union, print sales raised a further £1,000.
The prints were sold framed, and because of their backstory I was able to negotiate very favourable rates with the framer, who was at the time based in Sunniside, County Durham. Whilst collecting a batch of framed prints, I was tipped off about a new gallery which had opened in the picturesque village of Corbridge, Northumberland. I turned up unannounced at the gallery, carrying what I considered my best two paintings. And after the briefest of conversations, I was invited to produce a solo exhibition for a year hence! The exhibition was a great success, and I consider this to be truly the beginning of my artistic life. A life I'd always imagined but one I never thought I'd achieve.
---
Award-winning artist Stuart Fisher is considered to be one of the most talented painters of architectural landscapes in northern England. Mostly Durham contains 75 of his beautiful watercolour paintings and drawings from around the historic city of Durham and beyond. Get your copy of our #BookOfTheMonth today.
---
Please note: Sacristy Press does not necessarily share or endorse the views of the guest contributors to this blog.