Meet the Enigmatic Alfred Hope Patten
Added about a month ago by Michael Yelton
GUEST BLOG: Michael Yelton, author of Alfred Hope Patten and the Shrine of our Lady of Walsingham, discusses the life and legacy of this enigmatic Priest.
This revised second edition of Alfred Hope Patten and the Shrine of Our Lady of Walsingham is both a biography and a history. My hope is that it will be of use to the many pilgrims who visit Walsingham, which was voted the holiest place in England. The revival of Walsingham as a place of pilgrimage after the Reformation began with the appointment of a new vicar of the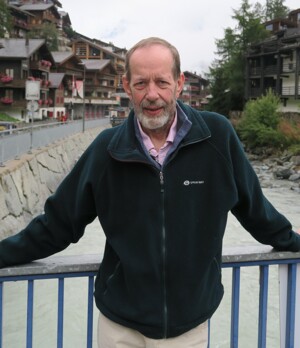 village in 1921. This was Alfred Hope Patten, a charismatic and often charming man who was then still young. He used his personal gifts to entrance many of those living in the village, some of whom became his followers, and one of whom, the local grocer's son Derrick Lingwood, became his invaluable assistant and in due course was ordained.
On 6 July 1922 Father Hope Patten set up an image of Our Lady in the parish church and it was soon adorned with flowers and devotional aids, looking like it would have been more at home in France or Belgium than in Norfolk. That was exactly the impression the vicar wanted to give.
From that small beginning, devotion to Our Lady of Walsingham was revived. In 1931 a shrine building was opened in the village and the image was moved to it. The first edition of the book, which has long been out of print, was launched to coincide with the 75th anniversary of that translation. The shrine went on from strength to strength and, contrary to what many thought would be the case, it has increased its appeal since Hope Patten died dramatically after collapsing during a service at the shrine in 1958.
Hope Patten was of course an Anglican, although he belonged to the Papalist wing of that church. The Roman Catholics also set up their own shrine in the village and for a time there was bitter rivalry, which has since abated.
Hope Patten was a complicated man who could retreat into himself, which led to some thinking him cold and indifferent. He tended however to let that mask slip when in the presence of the young, such as the servers in the church and their girlfriends: he felt the need to be remote more often when he was with the educated, as he had had great difficulty passing exams, almost certainly because he was dyslexic. There have always been those who thought that he was a humourless fanatic, but others regarded him as an exemplar of priesthood who could do no wrong. The truth is that he was utterly committed to his own vision of the Church of England, and totally without dishonesty, but inevitably that single-mindedness brought with it some somewhat flawed attitudes. He had for example no interest at all in the news, sport, or sex and not much in eating and drinking.
The later years of his life were adversely affected by his attempt to set up a school in the village, and a community of men who would take on the care of the shrine when he died. Both these attempts were unsuccessful, although the shrine has widened its scope and flourished since 1958.
The centenary of the erection of the image (Hope Patten would have called it "re-erection" as he always sought to link what was happening with what had happened before the destruction brought about by the Reformation) has made this a suitable time to update, revise, and re-issue the only book which examines Hope Patten's life in detail and was written after consultation with the records kept by the shrine.
Hope Patten's life can, in retrospect, be seen to be one of the most important lived by a parish priest in the Twentieth Century. While many other good men have been forgotten, his legacy is around him and is visited by many thousands. Alfred Hope Patten and the Shrine of our Lady of Walsingham explains how and why this happened.
---
Michael Yelton was in practice at the Bar for 25 years and then sat for 21 years as a Circuit Judge in the East of England. He has written extensively on Anglo-Catholic history as well as on church architecture and furnishings, on legal subjects and on transport, and retirement has given him the time to devote even more effort to these various subjects. He is widowed with three adult children and lives in Cambridge. He is now a Roman Catholic. You can get your copy of Alfred Hope Patten and the Shrine of our Lady of Walsingham here!
---
Please note: Sacristy Press does not necessarily share or endorse the views of the guest contributors to this blog.