A tribute to Deacon Dr David Clark
Added about a month ago by Sacristy Press
David Clark, author of Meeting the Global Crisis, sadly died shortly after completing his manuscript. Here is a tribute to David from his colleague Maurice Staton.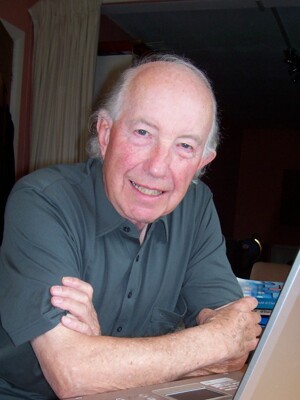 It is a privilege to be asked to write this tribute to Dr David Clark. We shared an interest in the work of the Methodist Diaconal Order though we were initially both presbyters. We exchanged notes and articles and encouraged each other in our quest for a true understanding of diaconal ministry and the quest for a diaconal church as opposed to what is referred to as "Christendom".
Happily married to Sue for 60 years and content in living in the Peak District of the Pennines, writing for David was not a form of escape but a passionate calling. It is important to recognise David's background which explains how he writes as an educationalist, sociologist, and a theologian.
After reading modern history at Oxford, David was accepted for the Methodist ministry and trained at Handsworth College, Birmingham and for a year at William Temple College, Rugby, relating theology and secular society. Following 11 years in circuit ministry, David taught in the Youth and Community Department of Westhill Teacher Training College between 1973 and 2000. His doctoral research at Sheffield University focussed on Community in a Suburban Village. He also held a Diploma in Public and Social Administration from Oxford University.
Hence his work has a broad spectrum rather than a clerical approach to ministry. Moreover, he believed in diaconal ministry, so much so that he left the presbyteral order of the Methodist Church so he could concentrate on being a deacon. Having commenced his presbyteral ministry in 1959, he was inducted into the Methodist Diaconal Order at the Methodist Conference 2005.
David saw the diaconate as an expression of the work of the Kingdom of God that establishes the reign of God in society. Deacons work on the margin of the Church to build bridges with society and to witness beyond the confines of the established Church. For him, the diaconal church seeks to extend Kingdom values in society, including justice, community, freedom, and equality in the spirit of love. David's emphasis is not on the clergy but the laity as community builders. Their vocation is to be servants of the Kingdom throughout the world by making manifest the kingdom community's gifts of life, liberation, love and learning Breaking the Mould of Christendom (2nd edn, 2014 p. 82). David saw the Church not as an institution but as an instrument of change. Hence the title of David's book, which is a summary of his life's work and scholarship, Meeting the global crisis. Kingdom community, diaconal church and a diaconal world. As the author stated in Breaking the Mould of Christendom (p. xix), "I believe that a new understanding of the leadership of the church, in particular the role of deacon, is imperative."
I am so pleased that David was able to complete his final book which he described as his magnum opus and that his dear wife Sue has enabled the publication of his work as a lasting tribute.
The Revd Dr Maurice W. Staton
Supernumerary Methodist Minister, York
---
Please note: Sacristy Press does not necessarily share or endorse the views of the guest contributors to this blog.