David
Goodacre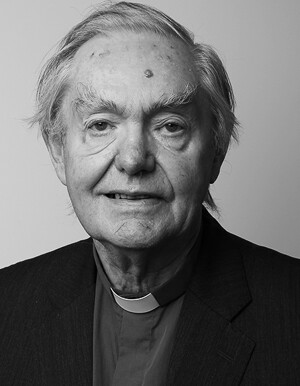 ​David Goodacre is a retired priest living in Newcastle. Ordained in 1960, almost all his ministry has been in the Northeast of England. For the last 20 years of his active ministry, he combined parish ministry with being diocesan officer for healing, spiritual direction and counselling.
​Born in 1936, David Goodacre was the eldest of six children, the son of the peripatetic spiritual director Norman Goodacre and his wife Ruth, a social worker. Educated in private schools, he did his National Service in a Yorkshire Light Infantry Regiment, largely abroad, before going to King's College London. He was ordained deacon in 1960, priest in 1961, both on Trinity Sunday, serving in his title parish with Trevor Beeson and his team at St Chad's Stockton-on-Tees. A second curacy was in Birtley, just South of Gateshead. While there he married Joy Orr. Joy had also been at King's, a history graduate, who then trained as a teacher before going to Northern Rhodesia—shortly before it became Zambia. She was there for four years. They married in 1965 and had two daughters, Christine born in 1966, Marie in 1979.
During these curacies, David began training as a counsellor with the Clinical Theology Association (now the Bridge Pastoral Foundation) went on to have a training analysis with the Object Relations Psychotherapist, Harry Guntrip and from these developed a counselling ministry. In the late 1960s, the family moved to Birmingham for a year, so that he could take part in Dr Bob Lambourne's Pastoral Studies course at Birmingham University. Following that, for the next five years they were back in the Northeast, where David was full time chaplain to the Sunderland hospitals. Joy and he then, together with their eight-year-old daughter, took a six month sabbatical to go round the world. On their return, David joined the Sunderland experiment as Priest in Charge of St Paul's, Ryhope, a large coastal village to the South of the city. In 1981, he was invited to become the Vicar of St Mary's Ovingham and at the same time adviser in Pastoral Care and Counselling in the Newcastle diocese. The role then included healing and spiritual direction and deliverance ministry was added later. At the same time, he became editor of the newly founded Health and Healing, the journal of the Churches' Council for Health and Healing.
Ovingham and its neighbouring village Ovington are beside the river Tyne, halfway between Hexham and Newcastle. In 1998, three years before David retired, Joy died. They had planned to move to a Cathedral city, so on retirement, David moved to Newcastle. He continued his counselling ministry there, both spiritual and psychological, and for some eight years worked especially with asylum seekers. He ceased counselling in 2011, but continues to accompany persons spiritually.
Paperback £16.99


An invaluable resource for anyone who regularly prepares prayers for public worship, guiding intercessors around the globe and helping them find the words to pray for the wider world.