Nadim
Nassar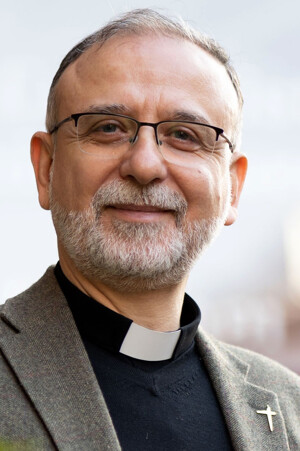 ​Nadim Nassar is the director of the Awareness Foundation, an international educational foundation which seeks to empower young people living in war zones. Having been born and raised in Lattakia, Syria, he studied theology at the Near East School of Theology in Beirut during the Lebanese civil war. Father Nadim lives and works in London and teaches, lectures and preaches in many places around the world.
Nadim Nassar was brought up in a large Christian family in Lattakia, Syria. His studies in Beirut at the Near East School of Theology between 1981 and 1988, during the Lebanese Civil War, often put his life at risk and had a profound effect on him. He was ordained by the Bishop of London at Holy Trinity Church, Sloane Square in 2004.
Nadim speaks and teaches in the Middle East, North America, Europe and Asia. He gives frequent public lectures for many organizations, including the Al-Khoei Foundation, the Post-Davos Nordic Summit and the United Nations Human Rights Council in Geneva. He advises the All Party Parliamentary Group (APPG) on International Religious Freedom and the British Foreign and Commonwealth Office. His upbringing in the Middle East and his great understanding of the Abrahamic faiths mean that Nadim is uniquely placed to offer an authentic Christian voice to other faiths, especially Islam.
Nadim preaches at churches across London and worldwide and is sought after by broadcast, print and social media outlets. His deep spirituality is enlivened by an engaging humour and the ability to forge relationships among people of faith—and those coming to faith.
His work and the work of the Awareness Foundation in Syria and Iraq as an international educational foundation seeks to empower young people living in war zones. The Foundation is based in London and registered as a charity in the UK and the United States. The Foundation helps young people and children to overcome the trauma caused by experiencing violence and the upheaval of war.
Paperback £12.99


iJesus explores the relationship between the culture of God as Trinity in relation to our highly complex digital cultures and reflects on how followers and disciples of Jesus Christ can live in a world shaped by digital communication, connectivity and artificial intelligence.