Check out our latest books for May!
Added about 6 years ago by Sacristy Press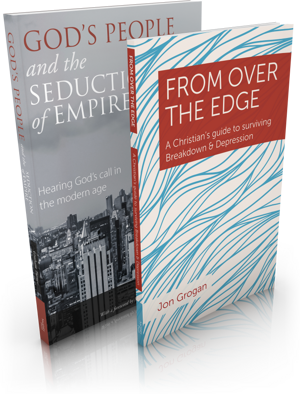 We've got two wonderful new books for you this month – take a look and let us know what you think!
Many Christians who suffer from depression and mental breakdown struggle to rationalise it with their faith. In this honest and thoughtful book, Jon Grogan shares what helped him to understand and recover from depressive illness. This empathetic approach will help sufferers feel better understood, with an improved understanding of the issues they deal with on a daily basis, and a renewed sense of place within the church community.
This is a useful book for anyone suffering from mental health issues, and those responsible for pastoral care. It has been reviewed by a medical practitioner.
Out now - paperback and e-book
"An accessible, radical and rare example of the aliveness and relevance of both the Old and New Testaments. Allow your faith to be energised and made passionate by reflecting on the insights that are brought to you in this book." (Ann Morisy)
In his new book, Graham Turner confronts many of our comforting assumptions about the story of God's people. Taking us on a journey through scripture, he draws together familiar texts (and some unpopular passages) to demonstrate that the Old and New Testaments coalesce around two central themes: personal spirituality and social justice.
Following God's call to Abraham and Jesus' call to his disciples, we are called to a higher truth—the Kingdom of God—whose equality, peace and love seems foolish to the world, including, sadly, many Christians. It is, however, the path to freedom.
---
Please note: Sacristy Press does not necessarily share or endorse the views of the guest contributors to this blog.