Best-selling Danish novel about St Hild of Whitby published in English for the first time
Added about 4 years ago by Sacristy Press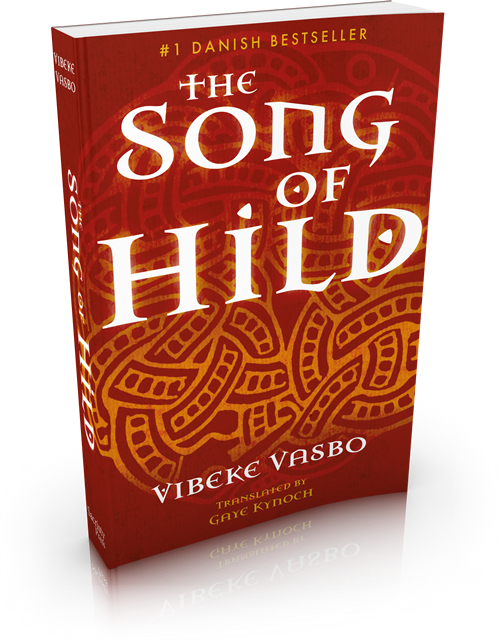 PRESS RELEASE: Sacristy Press, a UK independent publisher, is today (15 July 2018) publishing the translation of a number one Danish bestselling novel about the life of St Hild of Whitby by prize-winning Danish author Vibeke Vasbo.
The Song of Hild is a powerful story about the prominent role that women played in the spread of Christianity in seventh-century Britain, and how Hild of Whitby shaped Christianity as we know it today. Readers are drawn into a world of dark dealings, powerful patriarchy and religious wrangling.
Based on the exceptional life of Abbess Hild of Whitby (AD 614–680), one of the most influential women of her time, the novel unfolds during the dangerous religious and political upheavals of the seventh-century British Isles. As well as focusing on the lives of women, the book also reveals tensions between Danish-German invaders and the native Celts as a mirror for power struggles that reverberate internationally today.
"When I settled in Hull, eager to discover my new world, I knew nothing about the 'Dark Ages'. I saw a tiny picture of an abbess: 614-680, it said. I was stunned, for in Denmark we have no records from that time, only legends and archaeology. I simply had to find out who this woman was – and what a journey that turned out to be: seven years of research and writing," said Vibeke Vasbo, author of The Song of Hild.
"Hild is said to have been wise. How did she come by that wisdom? The few records we have allowed me freedom to imagine. I sent her through tribulations and joy, hardships and quests. I built upon the sources, never went against them. The Song of Hild tells the story of what could actually have happened."
The book is being published by Sacristy Press, a small, independent, publishing house based in Durham City. It publishes theology and history, including historical fiction. Founded in 2011, it is owned and run by Richard Hilton and Thomas Ball.
"We are delighted to be publishing this book, a translation of an already best-selling book, meaning that many more people will now be able to read it," said Richard Hilton from Sacristy Press. "It is a meticulously researched novel about women's lives and their prominent role in the Church during the Middle Ages, the political manoeuvres of conflicting religions, the building of a double monastery, and the power exercised by the Church of Rome. It is an exciting and enthralling novel, totally true to the historian Bede and archaeological sources.
"The history of Christianity and how it shaped our region is well documented and the book references many places from Lindisfarne and Bamburgh, through Binchester, Escomb and Hartlepool through to North Yorkshire, as well as our great rivers. It's a fascinating read and we are thrilled to be publishing it today."
Originally published in Danish as "Hildas sang" by Gyldendal in 1991, it was translated into English by Gaye Kynoch following the award of grants by the Danish Arts Foundation and Konsul George Jorck og Hustru Emma Jorck's Fond.
"Hildas sang" was number 1 on the Danish bestseller list and remained in the top 10 for several months. It has received much critical acclaim over the years, and has also been published in Norway, where it was extremely well received.
It was reviewed as being "written with dynamism and grim humour … there can be no doubt it will reach many readers, internationally too … a bestseller of great literary quality" (Poul Borum, Ekstra Bladet).
The Song of Hild is published by Durham-based Sacristy Press, and is available in paperback and e-book formats.
— ENDS —
Notes for Editors
Select Reviews
Dorthe Nors, shortlisted for the Man Booker International Prize in 2017, said: "The Song of Hild is an imposing, richly detailed and historically vigilant tale, told by one of the most compelling Danish voices in storytelling and gender history. Vibeke Vasbo leads the reader sure-footedly into a world that is recognizable in all its beauty and cruelty, and yet feels so very alien."
Sir David Wilson, former director of the British Museum, said: "This is the triumphal, gritty story of one of the most remarkable women of Anglo-Saxon England – of a saint's passion and religious experience. But it is not for the faint-hearted!"
About the Book
A full list of historical place names and people featured in The Song of Hild.
Written by a Dane, The Song of Hild was originally published in Denmark as Hildas sang by Gyldendal in 1991. It has been exquisitely translated into English, and published by Sacristy Press. The opening chapter can be read at www.songofhild.com.
The Song of Hild by Vibeke Vasbo (translated by Gaye Kynoch)
Paperback (456 pages, 229 × 152mm)
ISBN: 978-1-910519-86-8
July 2018 • RRP £12.99
Rights: Worldwide, English
Subject: Historical Fiction
BIC: FV, FW
Locale: Whitby, Lindisfarne, Bamburgh, Northumbria, North Yorkshire, Sutton Hoo, Hatfield, and various other UK locations
About the Author
Danish author Vibeke Vasbo researched The Song of Hild during the four years she lived in Hull, UK, while married to the Danish seamen's chaplain. She is the author of highly acclaimed, prize-winning novels, poetry, essays, short stories, literary criticism, radio essays, and lectures. She has also appeared numerous times on Danish television and radio, and she has frequently been interviewed in the print media – not only about her writing, but also about various aspects of her life and political activism: working as a crane driver in Oslo, for example, and her pioneering work in the Women's Movements. Vibeke Vasbo has been active in the Danish Writers' Association and is currently working on a new novel.
About the Translator
Gaye Kynoch is a freelance translator from Danish to English, with 30 years' experience translating books, essays and articles on topics related to history and the arts, in addition to theatre plays and works of fiction. She is British, and now lives in Denmark.
About the Grants
Two grants have were awarded to Sacristy Press to help fund the translation of The Song of Hild from Danish into English:
25,000 DKK (approx. £3,000 GBP) from the Danish Arts Foundation's Committee for Literature.
30,000 DKK (approx. £3,600 GBP) from Konsul George Jorck og Hustru Emma Jorck's Fond.
About the Publisher
Sacristy Press was founded in 2011 to publish history and theology, including historical fiction. It is based in Durham (UK), a medieval city with close links to Denmark, both historic and contemporary.
More information about Sacristy Press can be found at www.sacristy.co.uk.
For review copies of The Song of Hild or any other Sacristy Press book, please contact us with details of your publication or media outlet.
---
Please note: Sacristy Press does not necessarily share or endorse the views of the guest contributors to this blog.