What and Where is "The North"?
Added about 3 years ago by Nigel Rooms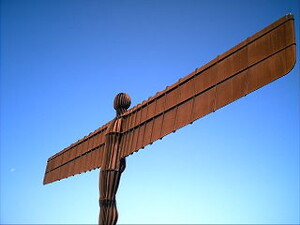 GUEST BLOG: Nigel Rooms, co-editor of Northern Gospel, Northern Church, explores the meaning and cultural implications of "Northernness".
When our book of essays Northern Gospel, Northern Church was published in 2016, the Bishop of Burnley wrote a review of it for the Church Times. Bishop Philip, who is often advocating for the North as well as England's outer housing estates, said that I should write a whole book based on the ideas in my chapter, 'Bias to the North? The meaning of the North and its Gospel'.
So that's what I'm doing: having secured some research funding, a colleague and I are spending eighteen months designing, surveying and researching churches in the North to see if we can discern what a "Northern Gospel" might actually look like on the ground. It's an ambitious piece of contextual theology which might fall flat on its face—not least because Steve Bevans (the 'father' of contextual theology) when I spoke to him couldn't think of a single comparable detailed study of this nature anywhere in the world. No pressure then. We hope we might have a further book worth publishing by the end of 2019....
Being born and bred in the North I can testify to sometimes feeling culturally and theologically misunderstood by my Southern colleagues. There's more to the North than mushy peas, gravy and flat caps; the Holy Spirit is alive and well and very much in action beyond Watford Gap. This work helps to address some of the specifics of what a Gospel in the North might look like, addressing key issues of identity without wandering into patronising stereotypes. Enlightening, thought provoking and honest, a bit like the North itself.
—The Revd Kate Bottley (the "Gogglebox Vicar")
It has been fascinating to continue to ask people where they think the North is and what "Northernness" might be, following the start I made in my chapter.
Along the way I discovered that there is a biennial prize for Northern literature, both fiction and non-fiction, called the Portico Prize. The Portico Library in Manchester's city centre is one of those great independent subscription libraries that emerged in the industrial revolution, so it was fun meeting some previous judges of the prize and talking with them about what sets apart Northern literature. Most interesting was a conversation I had with the librarian. He was talking about the difficulty of making sufficient parameters for what the North is so that authors (and their publicists) can enter their work. When I was there they were considering giving up on geography and moving to allowing any writing that "evokes the spirit of the North".
The use of religious language is suggestive here in itself, but I was equally interested in why geography was no good as an entry criterion, not least because it resonated entirely with my experience of discussing where the North is in groups:
It is not quite as simple as [geography alone], however, since when discussing where the North is I notice people (alongside their engagement and animation with the subject) trying to negotiate away the question in interesting ways. I have heard the following objections:

"The North can't be defined as it is relative—for example, Sheffield is in the South if you are a Geordie"
"There are massive regional and local variations in the North, so you can't lump it all together in one"
"In any case, there is poverty and deprivation in the South too, so why are we just focusing on the North?"
"While we are at it, there are plenty of places that are well off and more 'southern' while being in the North—just think of Harrogate!"
"Or is it just an English class thing and much less to do with the geographical North?"

(Northern Gospel, Northern Church: Reflections on Identity and Mission, p. 41)
Apparently, as soon as the geographical border was set, someone from just over it (in the notional 'south') would ask if they could enter. And some places, like Yorkshire, don't consider themselves to be 'wholly' in the North as they have a separate, even proto-national identity all of their own (I also had a conversation with someone who thought Manchester could be excepted too).
There is more evidence for this from Philip Bell, CEO of the Yorkshire Society, interviewed by The Guardian in advance of this year's Yorkshire Day on 1 August:
"There is a sense across the whole of the north of England and Yorkshire especially that we are seen as second-class citizens compared to the rest of the UK and London in particular. On spend per capita we're often at the bottom of the pile and there is that sense of injustice, which does feed a pride and resilience.

I see Yorkshire as a nation within a nation. We have a flag. We almost have an anthem in [the song] On Ilkla Moor Bah t'at – we could do with a proper one. There's a certain thing that beats in your heart as a Yorkshire person and unless we hold it together as a nation and maintain the traditions like Yorkshire Day, there's a danger it will disappear."
So we might conclude that while the North clearly exists, (a) it exists as an "other" which is over-against the South, and (b) as an English nation to which we will find as many ways as possible to deny this reality, including creating a "nation within a nation". I suggested in my chapter that this is due to a very important English cultural phenomenon, defined by Kate Fox as "polite egalitarianism" (Watching the English: The Hidden Rules of English Behaviour, 2nd edition, London: Hodder & Stoughton). Fox describes this phenomenon as "hypocritical, concerned with the appearance of fairness, the concealment of embarrassing inequalities and inequities" (p. 555), and also as "a combination of three 'key values' (courtesy, modesty, fair play) with a generous helping of hypocrisy" (p. 557).
My purpose here, therefore, following one of my heroes, Paulo Freire, is conscientization. For me this is about raising—sometimes dragging—unconscious attitudes up to the surface and into the light. Once something normally hidden is open for inspection, it generally loses its power of control over our behaviour, meaning that it is really hard to go back to it as an attitude since it has been 'called out'. The North does exist; it might be really hard to define and its boundaries are quite fluid, but it's not going away and it needs to be taken utterly seriously.
Nigel Rooms is a Church of England priest who works part-time for the Church Mission Society, consulting to local churches and the systems that support them about their long-term future. He is also a researcher, editor, facilitator and spiritual director, and on Sundays he is Associate Priest at St. Peter's, Braunstone Park, Leicester. He can be contacted at nigel@copiaassociates.co.uk.
Nigel is co-editor of our #BookOfTheMonth for September: Northern Gospel, Northern Church: Reflections on Identity and Mission, a must-have book for anyone seeking to understand the challenges of proclaiming the Gospel in the North of England. Get your copy for just £12.99 throughout September.
---
Please note: Sacristy Press does not necessarily share or endorse the views of the guest contributors to this blog.