Sacristy Press author helps to revolutionise screen reading for blind people
Added about 4 years ago by Sacristy Press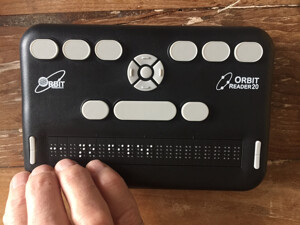 One of our authors is opening up the digital world to blind readers.
Until now, if you wanted to read the internet (or any other digital content) using Braille, you would have to stump up £4,000 for a "refreshable Braille" device. But not anymore, thanks to Sacristy Press author Kevin Carey.
Kevin Carey, author of ten books published by Sacristy Press and former chair of the Royal National Institute of Blind People (RNIB), has developed a brand new and cost-effective device for blind and partially sighted people to be able to read what is on their computer screen. The the Orbit Reader 20 will cut the price of a braille screen reader by over 80%, dramatically increasing the accessibility of the internet and other on-screen content to blind and partially-sighted people worldwide.
Kevin, who wrote his books on a refreshable Braille device, said of the project:
Our aim was to significantly reduce the expense of refreshable braille. The cost of existing displays is a major barrier to many blind and partially sighted people being able to enjoy the reading freedom of braille.

It's been a long and challenging journey, but I'm delighted to announce our success and unveil the Orbit Reader, which we believe will revolutionise the use of refreshable braille across the world. The market has been blown wide open and we look forward to seeing what the future holds for the industry.
You can find out more about this remarkable project here.
---
Please note: Sacristy Press does not necessarily share or endorse the views of the guest contributors to this blog.