Honorary Doctorate Awarded to Kevin Carey
Added about 3 years ago by Sacristy Press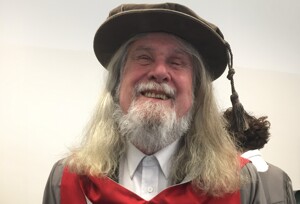 We are delighted to hear that Kevin Carey, author of multiple books with Sacristy Press, has been awarded an honorary doctorate by the University of York.
Kevin's wife Margaret writes:
Kevin has been awarded his honorary doctorate in recognition of his service to disabled people throughout the world for more than forty years and for pioneering work to improve the life chances of blind children in particular. The award also recognises his work in the university's Department of Computer Science, his lectures to students studying for their masters' degrees, and his research.

After attending both Cambridge and Harvard Universities, he worked as a BBC journalist and then joined Sightsavers International (formerly the Royal Commonwealth Society for the Blind), becoming Overseas Director, before leaving to set up his own IT consultancy. He has always been passionate about improving the life chances of visually impaired children in poor countries, commenting that 'After all, I was a blind child myself'.

He has advised the UK Government and the EU Commission, sat on the Content Board of Ofcom, and has achieved numerous awards in recognition of his lifetime of service. He is currently chair of the World Braille Council.

Kevin's braille computer, absolutely essential for his working and cultural life, is supplied by the government's Access to Work programme and costs around £4,000. This makes it unaffordable to children and students in poor countries, something that Kevin has always considered unacceptable. In 2011, he promised to find a way to cut the cost of braille computers by 90%. He was, of course, told he was mad and that it couldn't be done. Undeterred, Kevin put together a global consortium of organisations working with blind people worldwide and raised the $1.5m needed for the research. In 2018, the first little Orbit 20 braille computer came of the factory in India at the cost of about $400! A year or so later, almost 2,000 blind children in East Africa have an Orbit computer which allows them to read braille, type, access the internet, play games, and have equal status with their sighted classmates. He is both pleased and proud about this!
We are very proud of him too. Congratulations, Kevin!
---
Kevin Carey is one of Sacristy Press's founding and most prolific authors, writing Christian literature in all major forms: novels, non-fiction, plays and verse. Click here to explore his many books!
---
Please note: Sacristy Press does not necessarily share or endorse the views of the guest contributors to this blog.