Graham
Turner
For over thirty years, Graham Turner has served in a variety of parishes, mostly in urban neighbourhoods. Through community enterprises and businesses he has worked tirelessly to help overcome social injustice while also exploring a range of Christian traditions to help deepen his own faith as well as that of others.
After an initial engineering apprenticeship and obtaining an electronics degree, Turner studied theology to enter the Anglican ministry. He is now a full-time chaplain at a public-sector prison in the North West of England.
Paperback £11.99 £9.99
ISBN: 978-1-910519-00-4

An accessible, radical and rare example of the vitality and relevance of both the Old and New Testaments.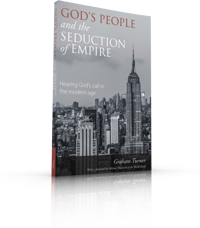 GUEST BLOG: Graham Turner, priest and author of God's People and the Seduction of Empire: Hearing God's call in the modern age, offers his perspective on current global events, and reflects upon the importance of faith in response to the demands of empire. Hopefully we are all appalled by t…
Added about a year ago. Read More