St Cuthbert's Pupils Build LEGO Shrine – Sponsored by Sacristy Press!
Added about 7 years ago by Sacristy Press
Pupils from St Cuthbert's Roman Catholic Voluntary Aided Primary School in Chester-le-Street have been selected to build St Cuthbert's Shrine on the LEGO replica of Durham Cathedral.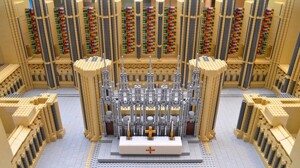 The LEGO shrine has been sponsored by Durham publisher Sacristy Press, which donated the funds to the LEGO project but stipulated it should be pupils from a local St Cuthbert's School who should enjoy building the LEGO model.
Richard Hilton, Operations Director at Sacristy Press and a Cathedral volunteer, explained:
When I was a child one of my favourite pastimes was building LEGO, so when I first heard about the LEGO Cathedral I was filled with childlike excitement.

Thomas Ball (Commercial Director at Sacristy Press) and I wanted to give the opportunity for some local children to enjoy that same excitement and, because St Cuthbert's shrine is special to both Sacristy Press and me personally, it seemed like the perfect choice. We hope the children from St Cuthbert's School enjoy the opportunity to contribute to the LEGO Cathedral as much as we enjoyed building LEGO as children.
The LEGO Cathedral is a fundraising project that is set to raise £350,000 towards the £10million Open Treasure appeal at Durham Cathedral. This appeal will transform some of the Cathedral's most historic spaces, creating an exhibition route that will include the Monks' Dormitory and finish in the Great Kitchen, where the treasures of St Cuthbert will be displayed, alongside other Cathedral treasures and visiting exhibits
Head of Development at Durham Cathedral, Gaye Kirby, said:
We are very grateful to Sacristy Press for their generous donation to the project and thrilled that they have chosen to donate the bricks to local school children.

The LEGO model is popular with people of all ages, but children in particular take real pleasure from placing their bricks and in doing so, taking part in a piece of living history. It is particularly nice for the pupils from St Cuthbert's Roman Catholic Voluntary Aided Primary School that they have been given the chance to build the shrine of their own school's namesake.
To find out more about the LEGO Cathedral project, please visit: http://www.durhamcathedral.co.uk/donate
ENDS-ENDS-ENDS
Media Contacts at the Cathedral:
Head of Marketing and Events, Ruth Robson on 0191 3744054

Marketing Officer, Catherine Hodgson on 0191 3744067
Notes to Editors
Sacristy Press was founded in 2011 to publish historical and theological titles, both fiction and non-fiction. It is based in the historic academic city of Durham in North East England. More information about Sacristy Press can found on their website at www.sacristy.co.uk.
Related Twitter handles: @SacristyPress, @durhamcathedral
St Cuthbert's Corpse: A Life After Death was published in 2013 by Sacristy Press, Durham, and brings together, for the first time in a single volume, accounts of all recorded openings of Cuthbert's coffin. Including details of Cuthbert's death and burial, the moment when monks first discovered his remains to be incorrupt, and the most recent exhumation of his relics in 1899, David Willem brings alive the mystery and intrigue of the life of Cuthbert's corpse.
Building St Cuthbert's Shrine: Durham Cathedral and the Life of Prior Turgot and Life in a Medieval Monastery: The Monks of Durham Cathedral were published in 2013 by Sacristy Press, in conjunction with Durham Cathedral and Durham University's Institute of Medieval and Early Modern Studies, and explore the medieval history of Durham Cathedral.
All three books (and many other Sacristy Press titles) are available in the Cathedral Shop or at www.sacristy.co.uk. For review copies, please contact us with details of your publication or media outlet.
Durham Cathedral is a Christian Church of the Anglican Communion, the shrine of St Cuthbert, the seat of the Bishop of Durham and a focus of pilgrimage and spirituality in North East England. It inhabits a treasured sacred space set in the natural and human landscape of the World Heritage Site.
Its purpose is to worship God, share the gospel of Jesus Christ, welcome all who come, celebrate and pass on its rich Christian heritage and discover its place in God's creation.
The building of Durham Cathedral commenced in 1093 and took around 40 years to complete. It replaced a Saxon cathedral built by the Community of St Cuthbert after it arrived in Durham in 995 following its flight from the 'Holy Island' of Lindisfarne 80 miles north of Durham. The body of St Cuthbert is enshrined in the Feretory at Durham Cathedral and the Tomb of the Venerable Bede is in The Galilee Chapel. The Cathedral existed as a Benedictine Monastery until 1539 when it became one of the Church of England's major Cathedrals.
It continues to be a focus for pilgrimage and attracts over 600,000 visitors each year from all over the world. The Cathedral has internationally important collections of artefacts, manuscripts and books that include St Cuthbert's coffin and his pectoral cross; superb examples of Anglo-Saxon craftsmanship. Durham Cathedral is often referred to as the best example of Romanesque architecture in Europe, or as American writer Bill Bryson put it, 'the best Cathedral on planet earth.'
Since its construction Durham Cathedral has been alive with people and a centre for community activity. The Cathedral is home to a vibrant worshipping community and continues to celebrate the English Choral Tradition with sung services by its highly acclaimed Choir. As a new century unfolds Durham Cathedral aspires to enrich the many different ways in which it engages with people and organisations. It is cherished equally by those who live, work and study in the region and by those who come to visit.
Open Treasure: Durham Cathedral is undertaking a project called Open Treasure – a major development which will transform the way the Cathedral buildings are experienced, understood and used to the glory of God, both as working buildings and to the benefit of those who visit.
The first phase of Open Treasure was completed in autumn 2012. New Choir Vestries are now in use and a new Cathedral Shop with a fully accessible Foyer was opened by Baroness Tanni Grey-Thompson in November of that year. The Treasures of St Cuthbert exhibition is not on display at present but as part of the next phase of Open Treasure, a new exhibition that includes these wonderful Anglo-Saxon artefacts will be created in the Monastic Great Kitchen. This will be the culmination of a journey through some of the Cathedral's claustral buildings and a sequence of exhibition spaces, showcasing the Cathedral's collections of paintings, carved stones, textiles, metalwork and manuscripts in a way that tells the story of Christianity in the North of England, monastic life in Durham and the life of the Cathedral today.
Durham Cathedral's Open Treasure project has been awarded £3.9 million from the Heritage Lottery Fund. The public appeal will help the Cathedral to complete the funding needed for the project.
Using money raised through the National Lottery, the Heritage Lottery Fund (HLF) aims to make a lasting difference for heritage, people and communities across the UK and help build a resilient heritage economy. From museums, parks and historic places to archaeology, natural environment and cultural traditions, we invest in every part of our diverse heritage. HLF has supported over 35,000 projects with more than £5.5bn across the UK. www.hlf.org.uk.
For a full list of donors and supporters of the Open Treasure appeal, please visit our website: www.durhamcathedral.co.uk.

---
Please note: Sacristy Press does not necessarily share or endorse the views of the guest contributors to this blog.