Holy Ground and Common Ground
Added about 2 years ago by Nicholas Henshall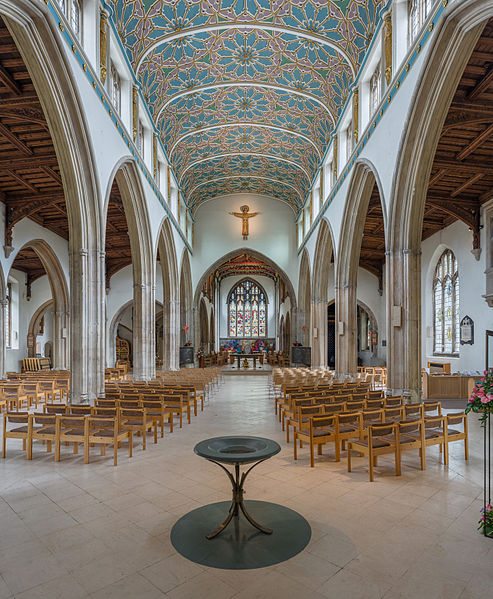 GUEST BLOG: Nicholas Henshall, Dean of Chelmsford, reflects on what the COVID-19 lockdown has meant for him and the work of his cathedral.
Recently, on my daily exercise walk, I bumped into Richard. Richard has been living rough for most of the time I have known him, and the Cathedral is a place he feels at home. As we had a socially distanced conversation in the High Street, I was not surprised that his first question was "when's the Cathedral going to be open again?" But his follow-up was both surprising and beautiful. "…because I haven't just got mental health needs. I've got spiritual needs!" Richard had told me something important about the absence of the Cathedral in lockdown.
It is a telling question: if cathedrals were not there, who would notice? What would be missing? There are already a range of possible answers. Alexander Armstrong and Stephen Fry gave a very BBC Radio 3 response: Choral Evensong. Cathedrals as the unique curators of high culture that still speaks of the things of faith way beyond the boundaries of any faith community. One of my answers would be the loss of our work with rough sleepers and our project for women who are non-native speakers of English, which gives them not just language tuition but a gateway into the wider community. Social outreach programmes are the job of every church, but as the Bishop's Church the Cathedral has an important role in being exemplary.
A different insight came a few years ago when a recently appointed member of staff made the fascinating observation that "cathedrals just aren't all that churchy!" Certainly we do a lot of church, but she was making a different kind of observation, something to do with the way the Cathedral doesn't point inwards to keep the show on the road, but outwards with a keen understanding of its place in the public square. That observation has been important in lockdown where it is clear that the city has missed us.
What have I missed personally? I had only just come back from four months' extended study leave when lockdown began, so I thought it might feel like more of that—and certainly being "laid aside" through this wide space of time has had its opportunities for rest, reading, retreat. But the "heavy lifting" of being the Dean does not seem to change. You are still responsible. As a team we have been streaming daily worship and teaching—and that has clearly brought us into a whole range of new (if virtual) relationships. One diocesan officer has said the daily prayer online has brought communities across the diocese closer to the Cathedral than they have ever been before. The challenge of course is how to sustain that going forward.
But I am with Richard, really. I love our daily prayer together; I love our Sunday worship; and I have missed all of that. But what I have missed most is spiritual space. I do not mean that kneeling on the floor in my spare room, live-streaming Morning Prayer, is not spiritual, but it is different. When I sit in the stillness of the Cathedral, or even in the noise of the Cathedral, I'm in unagenda-ed space where I can be me; a space where Richard and I meet completely as equals with the same stumbling desire for God.
---
Nicholas Henshall has been Dean of Chelmsford since 2014. He served as a parish priest for fourteen years in inner-city Newcastle, followed by six years as Canon Precentor of Derby Cathedral, and five as vicar of Christ Church, Harrogate. He worked for BBC local radio for six years and writes regularly for the Roman Catholic international weekly The Tablet.
Nicholas contributed to Holy Ground, a book examining the role of cathedrals in the twenty-first century, and is the editor of Dear Nicholas…, the perfect gift for anyone in or training for ministry.
---
More from this category: Coronavirus
Please note: Sacristy Press does not necessarily share or endorse the views of the guest contributors to this blog.