Holy Ground
:
Cathedrals in the twenty-first century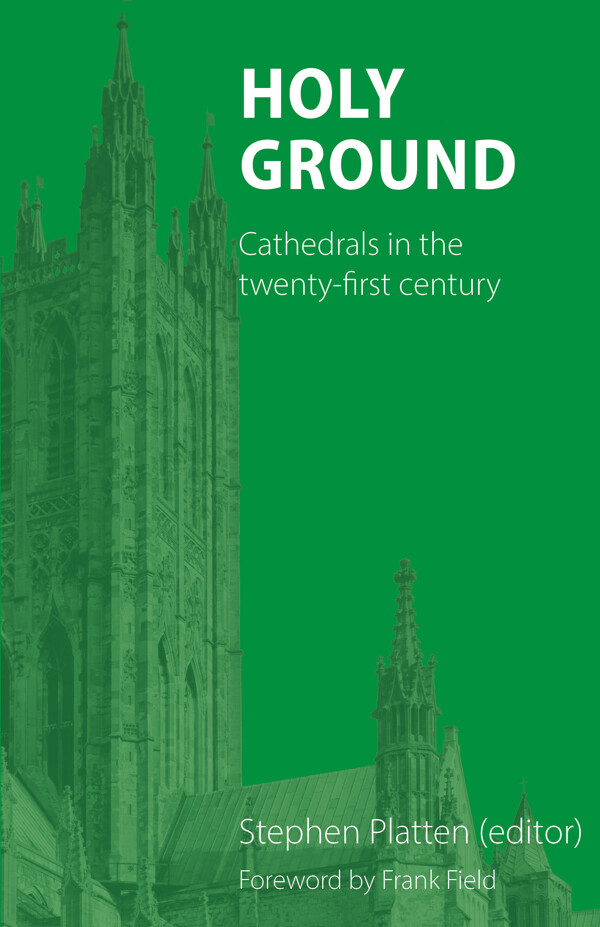 You may also like…
Buy this book!
Price: Was £16.99 Now £14.99
E-Book Availability
Using a Windows or Android device? Download the Kindle or Kobo app to enjoy our e-books!
Book Details
Format: Paperback (198 pages)
Publisher: Sacristy Press
Date of Publication: 1st October 2017
ISBN: 978-1-910519-73-8
Synopsis
Cathedrals today face a paradox: on the one hand they represent one of the biggest success stories and mission opportunities of the present-day church; on the other they face seemingly insurmountable financial difficulties, and are largely left by the church and government to fend for themselves.
Many—both within and outside the church—argue that cathedrals are an irrelevance. But cathedrals are one area of the church's life where increasingly the unchurched and the half-believer encounter God, and where the institutions of our society instinctively engage with the Christian gospel, making them truly missional in their occupation of a spiritually liminal space.
Holy Ground digs deep into the life of England's cathedrals, and discusses such diverse topics as finance, growth, heritage, liturgy, development, music and art.
English cathedrals are a rare success story in modern religion. While attendance at most places of worship is in decline, cathedral worship is rising. People clearly find in these sensational buildings something that responds to their religious, emotional and psychological needs. Is it their worship, their architecture, their music, their governance, their serenity? At last a group of informed writers tackle questions crucial to the future of religion in Britain, and perhaps of the wider human condition.

Sir Simon Jenkins, Author of England's Cathedrals
If we are to have an informed and calm conversation about the future shape of the governance of these ancient and modern places and better financial controls than have recently applied in some—but by no means all—cathedrals, then books like this can only help to inform the Church about what a rich part of national and church heritage cathedrals represent. But these are not just heritage gems to be preserved. The whole point of the book and the report is that cathedrals are alive, growing, and witnessing, bucking the trend seen in much of the rest of the Church: missional, exciting, and vital. That is why tourists and pilgrims will continue to enter the doors, to look at what is contained within the walls, but also to fall down and worship.

The Very Revd Andrew Nunn (Dean of Southwark), The Church Times
A ringing and expert endorsement of the comprehensive nature of cathedral ministry. From physical presence to visitor welcome, as a former Dean and Bishop, Platten speaks from a point of full understanding of the opportunities and challenges of the particular types of ministry found in cathedrals. … One of this book's greatest strengths is that it provides ammunition for those making the argument that the contribution of cathedrals to the social and economic life of the nation makes them worthy of significant public support.

Becky Clark, 'Building for Mission' blog
This volume of essays is a timely reminder of the richness of cathedral ministry and mission. With the current national spotlight shining on the governance and management of English cathedrals, Stephen Platten is to be thanked for broadening the debate on the place of cathedrals in contemporary British life. […]

There is something special in the air when a cathedral offers hospitality to a particular service, event or occasion of spiritual significance or remembrance. Cathedrals can and have facilitated the Church's learning in areas of theological and liturgical debate. They hold the past while having the potential to step beyond this security to meet an increasingly pluralistic world view. They bring a prophetic ministry that the Church at large lacks. They are so much more than large churches, although a comparative study with the greater churches would provide significant insights for both. The gift of cathedrals to the Church is often misunderstood, and this collection of essays is an accessible read for anyone wanting to explore the insights cathedrals uncover for mission in local churches too.

The Revd Canon Lynda Barley (Truro Cathedral), Theology
About the Authors
Stephen Platten (editor) is an Assistant Bishop in the Dioceses of London, Southwark, and Newcastle, and chairman of Hymns Ancient and Modern and of the governors of the Anglican Centre in Rome. He was formerly the Archbishop of Canterbury's Secretary for Ecumenical Affairs, Dean of Norwich, and Bishop of Wakefield. He was a member of the Cathedrals Fabric Commission for England from 2006 to 2016.
Peter Atkinson has been Dean of Worcester since 2007, having previously been a residentiary canon of Chichester, Principal of Chichester Theological College, and a parish priest in south London, Surrey, Bath, and Sussex. He is the author of two books, Friendship and the Body of Christ (2004) and The Lion Encyclopaedia of the Bible (2009).
Frank Field has been the Labour MP for Birkenhead since 1979. He chaired the Cathedrals Fabric Commission for England from 2005 to 2015 and founded the Cathedral Academies Trust in 2016.
Nicholas Henshall has been Dean of Chelmsford since 2014. He served as a parish priest for fourteen years in inner-city Newcastle, followed by six years as Canon Precentor of Derby Cathedral, and five as vicar of Christ Church, Harrogate. He worked for BBC local radio for six years and writes regularly for the Roman Catholic international weekly, The Tablet.
David Hoyle has been Dean of Bristol since 2010. Before that he had been a parish priest and more recently Canon Residentiary of Gloucester Cathedral and Secretary to the Theological Group of the House of Bishops. He is a published historian and the author of The Pattern of Our Calling (2016).
Christopher Irvine is Canon Librarian and Director of Education at Canterbury Cathedral, and was formerly the Principal of the College of the Resurrection, Mirfield. He is a trustee of Art and Christianity Enquiry, and continues to teach Liturgical Studies. His previous publications include The Use of Symbols in Worship (2007) and The Cross and Creation in Christian Liturgy and Art (2013).
Jane Kennedy is architect to Ely, Newcastle, and Christ Church (Oxford) cathedrals and is also working with several Roman Catholic cathedrals. She is a senior partner at Purcell and is currently leading a team which is repairing, adapting, and extending Auckland Castle in County Durham to be a museum of faith.
Simon Oliver is Van Mildert Professor of Divinity at Durham University and Residentiary Canon of Durham Cathedral, having been on the faculty at Lampeter and then Associate Professor in the University of Nottingham. He specializes in systematic theology and philosophy. His most recent book is Creation: A Guide for the Perplexed (2017).
Jennie Page was for ten years (2006–2016) Vice Chair of the Cathedrals Fabric Commission for England, having been Chief Executive of English Heritage from 1989 to 1995. She is currently Vice Chair of the Church Buildings Council.
Richard Shephard was a member of Baroness Howe's Cathedrals Commission, whose report formed the basis of the 1999 Cathedrals Measure. Most recently he has been Director of the York Minster Trust and before that was Headmaster of the Minster School in York. He is a prolific composer of sacred music.