Top Tips for Advent and Christmas 2019
Added about 3 years ago by Sacristy Press
Whether you're after the perfect Christmas stocking-filler, a coffee table book to impress, or you just want a steer for your Advent reading, read on for our top tips for 2019…
Reflection and Resources: Advent | Christmas
Perfect Presents: Coffee Table Classics | Fiction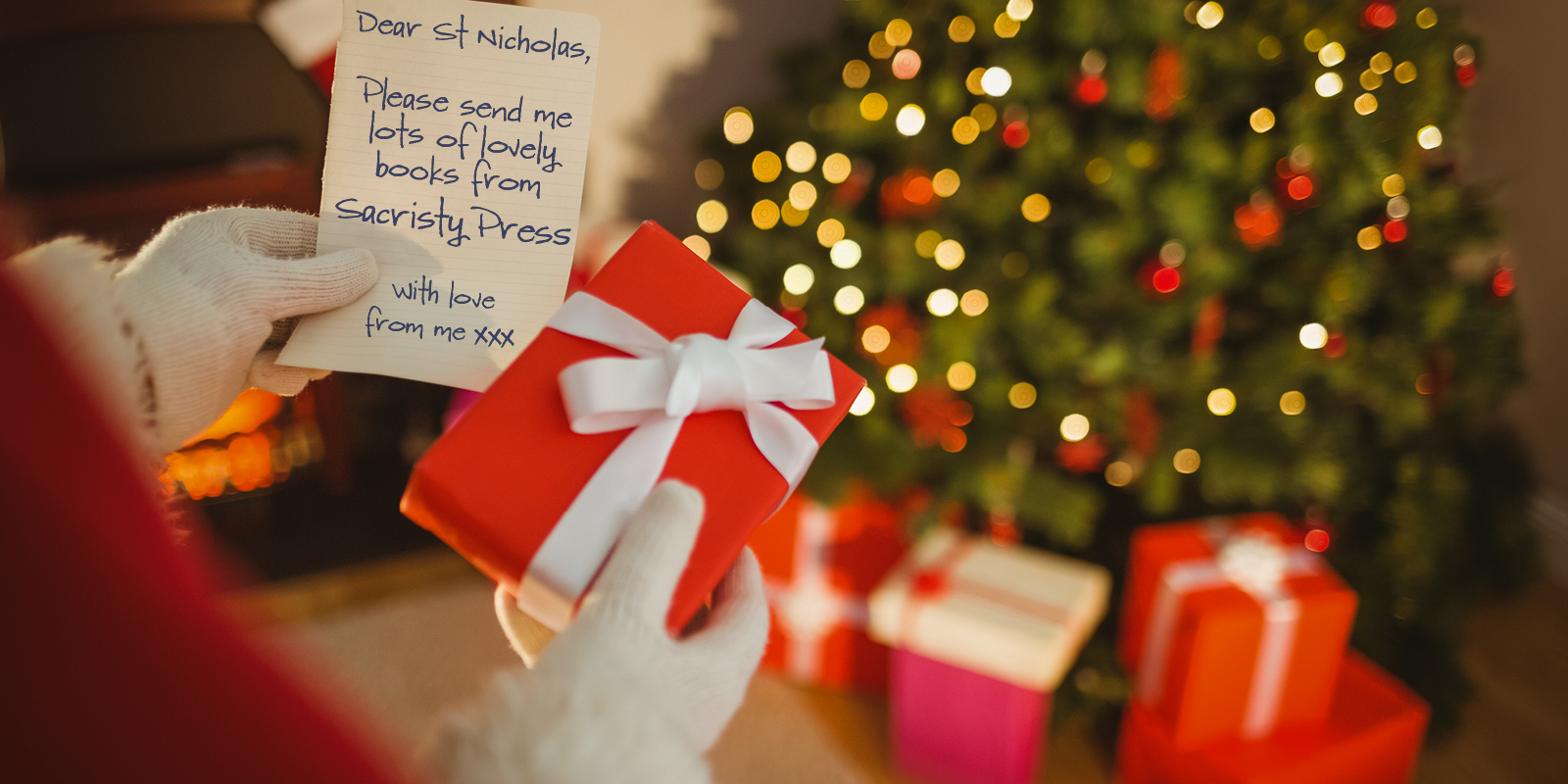 Reflection and Resources
Advent
by Stephen W. Need
Go on a journey through the Holy Land from the comfort of your own home! Reflecting on the key locations of Jesus' life and ministry, this book invites Holy Land visitors and armchair pilgrims to reflect on Christian discipleship through Advent and Lent.
Stephen Need explores ten holy sites' pasts and presents, deftly weaving New Testament hermeneutic and church doctrine to cheer and challenge contemporary mores. … An immense but accessible breadth of scholarship. … It is all as if I sat in a boat in the midst of a silent Galilee, each surrounding village heavy with Christ, who comes as close as touch in Need's astounding book.

The Rt Revd David Wilbourne, The Church Times
by Ian Black
How do you follow Jesus? Follow Me makes for perfect Advent reading, helping us uncover how Jesus' words are still relevant, and distilling the essence of the Gospel message for today.
★★★★★ Wonderful book – inspiring yet down to earth and practical.

★★★★★ Easy, accessible, engaging, fluidly written. A beautiful book.

Amazon reviewers
by Richard Noble
The King James Bible is a treasure-trove of idioms and clichés that have entered everyone's vocabulary—and yet few are aware of the Bible as their source.
Whether your interest is purely linguistic, theological, or devotional, this book assumes no prior familiarity with the scriptures. By providing the context of each book and phrase it becomes a useful guidebook, bringing the Bible alive. Why not try reading about one each day throughout Advent?
This is a fascinating book. It would be a great gift, and not just for Christians, but for anyone who loves the language of the bible … The introductions to the books of the Bible are well researched and concise, inspiring the reader to pick up a bible and read more, and the vignettes about the chosen phrases are memorable and draw on a huge frame of reference in political, social and literary life. This is the kind of book you could buy to read yourself, and then when you've finished, leave it lying around for others to pick up and be fascinated by.

Amazon reviewer
Christmas
by Kevin Carey and Kevin Sheehan (illustrator)
Christmas has inspired the writers of poems, songs and carols for two millennia. While the words and tunes of familiar carols are an essential part of Christmas, there is also a need for new words and reflections on this most inspirational of seasons.
This book brings together Kevin Carey's previous four volumes of illustrated Christmas poetry with a new collection of vibrant lyric poetry that will delight those eager to renew their Christmas spirit.
This book is a perfect Christmas gift, containing over 230 poems that guide us through from Advent to Christmas and Epiphany. Scattered throughout the text are illustrations by Kevin Sheehan.
That wondrous night our Saviour came
All earthly rules were set at nought
A new made star and angel flame,
A stable for a royal court.
by Kevin Carey
Bring the Christmas narrative to life with this Parish Nativity Play. Kevin Carey's moving interpretation is suitable for all acting abilities, ages, and experience levels. It can be performed with props and costumes or simply read aloud.
By marrying the two Gospel accounts of the Incarnation, supplemented by the author's imagination, Carey's nativity play stays as close to the meaning as possible, and yet remains entertaining for both cast and audience alike!
"Production Multipacks" available at substantial discounts!
---
Perfect Presents
Coffee Table Classics
by Anthony Jennings and Clive Aslet (foreword)
Traditional English rectories and vicarages have been neglected by the Church in the post-war years, but have become highly desirable to property buyers, and are now cherished by their new private owners. They combine many coveted qualities: their fine architecture, their air of civilisation, their charm and character, the traditional values and the essential "Englishness" they evoke, their large gardens and often splendidly rural locations.
This book is about these fine houses, their place in English history and the history of the Church, their architecture, their architects, their contribution to our culture, and their sometimes eccentric occupants—both clerical and secular.
This new edition has been significantly revised, and includes additional material and 68 plates (most of which are in full colour).
Unlike so many architectural surveys, Pevsner included, it transcends the merely material to leaven the lump with tasty historical and personal details of the people involved in the construction and habitation. … Jennings is the go-to book for detail and across the board referencing of church history, architecture (and architects) – all linked to the 'story' of the English parish and its clergy.

David Shacklock, The Georgian
by Stuart Fisher and Michael Sadgrove (foreword)
Award-winning artist Stuart Fisher is considered to be one of the most talented painters of architectural landscapes in Northern England. Mostly Durham contains 75 of his beautiful watercolour paintings and drawings from around the historic city of Durham and beyond.
Generations of painters have sought new pictorial songs to sing in depicting Durham and its great Cathedral. I was no different in this respect, until I became aware of the infinite variations endowed upon these historic structures by the ever-changing world they inhabit. This book contains some of my songs, but there are many more yet to sing.

Stuart Fisher
by Michael Chandler
Discover the political and ecclesiastical controversies of the 19th century through the eyes of Queen Victoria's Archbishops of Canterbury.
During the reign of Queen Victoria, the Church of England changed remarkably, and many of the institutions that are now a significant part of its life began to take shape. In engaging mini-biographies, Michael Chandler introduces the six men who served as Archbishops of Canterbury under Queen Victoria. He maps out how they not only responded to the ecclesial, social and political concerns of the time, but transformed the Church of England from an established church that largely served its own country to being part of a global church of which former colonies could be equal partners.
Lots of us imagine that the so-called Victorian Age was a triumphant time for Christianity in England. Parish churches stood by the village green, "snug and smug among the hedgerows", with imposing vicarages and beautiful manor houses nearby; with cheerful and happy peasants working happily to make the whole thing viable… Even the most complacent living in that period, though, sensed that the old certainties were shifting. Yet the gospel of Christ had to be proclaimed in every generation, and the Church of England was called to fulfil its role, declare its witness, even as life changed.

All six of these Archbishops of Canterbury strove to demonstrate the truth of an adage of another Victorian, that "Christianity is an heroic adventure". Some were more heroic than others, but all lived the gospel truth in their day and carried the flame of faith to those who came after them.

Michael Chandler, writing in his guest blog
Fiction
Here are just two of our fiction bestsellers. Have a look at the full range here – there really is something for everyone!
by Vibeke Vasbo and Gaye Kynoch (translator)
#1 DANISH BESTSELLER
Abbess Hild of Whitby was an extraordinary woman living in extraordinary times. In this exquisite translation of the Danish bestselling novel Hildas sang, we are drawn into a world of dark dealings, powerful patriarchy and religious wrangling.
In the political and religious upheavals of the seventh-century British Isles, tensions between the Danish-German invaders and native Celts mirror power struggles that reverberate internationally today. In The Song of Hild we are brought face-to-face with the political manoeuvres of conflicting religions, the building of a double monastery, and the power exercised by the Church of Rome.
This is a gritty, powerful story about the prominent role women played in the spread of Christianity in seventh-century Britain.
An imposing, richly detailed and historically vigilant tale, told by one of the most compelling Danish voices in storytelling and gender history. Vibeke Vasbo leads the reader sure-footedly into a world that is recognizable in all its beauty and cruelty, and yet so very alien.

Dorthe Nors, shortlisted for the Man Booker International Prize 2017
by Katharine Tiernan
A young Anglo-Saxon warrior lays down his sword to follow a vocation that means leaving behind wealth and position – and women. Cuthbert, the seventh-century Northumbrian bishop and saint, has become the subject of many a legend. Here we see Cuthbert through the eyes of those closest to him: Princess Aelflaed, his daughter in God, and Eata, his Abbot. This is a time of war between the peoples of the North, and with powerful Bishop Wilfrid seeking to impose Roman practices, the Church is in danger of splitting.
Cuthbert longs for the windswept solitude of Inner Farne, when he is summoned back to become the most powerful church leader in the land. Will it be a calling too far for the holy man and reconciler?
This is a moving and powerful historical novel and a must-read for all who love the stories of the Northern saints and want to know more about the earliest days of Christianity in the North.
Tiernan has a flair for psychological insight and an imagination that fills in the gaps in the historical record without ever doing violence to what is likely. She is also possessed of a vivid visual imagination, and an illuminator's eye for small details. This is a highly pleasurable and intelligent piece of historical fiction.

Fiona Hook, The Church Times
---
Still not sure what to read? Check out our whole range, including the latest releases, here.
Be the first to hear about our wonderful new books and other exciting announcements! For members-only discounts, author interviews and more, sign up to our mailing list.
---
Please note: Sacristy Press does not necessarily share or endorse the views of the guest contributors to this blog.