Dear Nicholas...
:
A Father's Letter to His Newly Ordained Son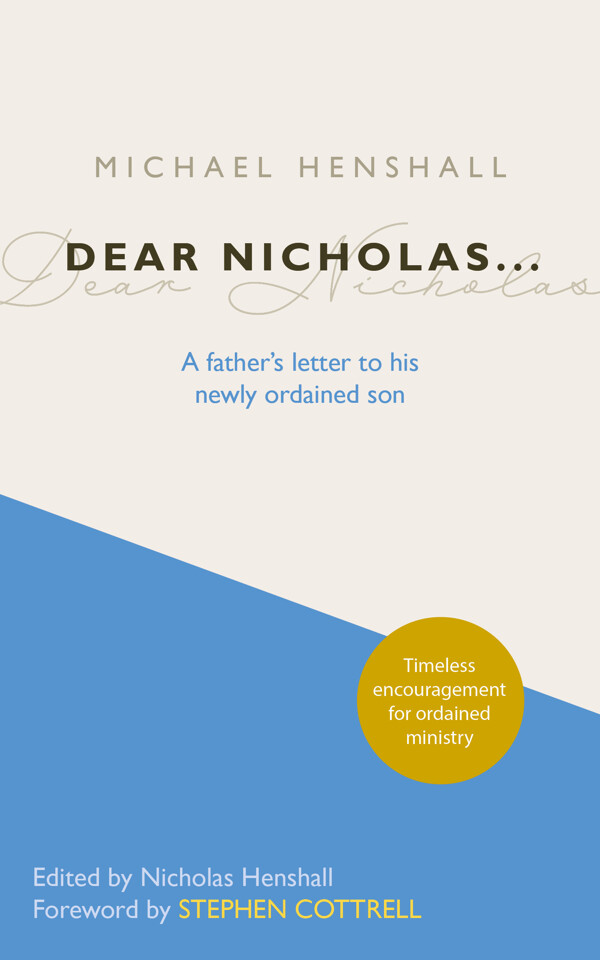 You may also like…
Paperback £12.99 £9.99


Drawing on her experience of chaplaincy in prison, hospice and university contexts, Rosie Deedes reflects on the nature of good pastoral care and chaplaincy as a model of ministry for our time.

Paperback £12.99


Church leaders frequently encounter tensions and conflict, especially when facing change. Building on extensive experience of leading churches at times of change, David Robert Tomlinson shows how through critical theological reflection and modelling good practice church leaders can facilitate church life that is grounded and transformed by the love of God.

Paperback £8.99 £7.99


Connecting the reality and experience of time with the demands and realities of ministry today, this book helps ministers to take positive steps towards navigating the very considerable time pressures that many face today.
Buy this book!
Price: Was £8.99 Now £7.99
E-Book Availability
Using a Windows or Android device? Download the Kindle or Kobo app to enjoy our e-books!
Book Details
Format: Paperback (102 pages)
Publisher: Sacristy Press
Date of Publication: 1st November 2019
ISBN: 978-1-78959-064-7
Synopsis
The perfect gift for anyone in or training for ministry
Foreword by Stephen Cottrell, Archbishop of York.
Dear Nicholas... was originally a private letter from Bishop Michael Henshall to his newly ordained son, Nicholas. Later published for a wider audience it provided encouragement and challenge to many approaching ordination. It is once again available to all who are about to be ordained, and indeed all who wish to pause and consider their life as a priest in the Church today.
This new edition features an epilogue by the original recipient of the letter, Nicholas Henshall, who is now Dean of Chelmsford.
Listen to Nicholas Henshall on BBC Essex talking about Dear Nicholas...
I began reading this book thinking it would open an interesting window on how the Church of England saw ministry forty years ago. I expected much of it to feel dated. I finished the book reinvigorated and surprised: not only had it focused on a set of insights into ordained ministry that are timeless, I felt refreshed in my own calling. The book's beguiling simplicity, and the fact that it is an actual letter from a father to a much-loved son, and not a treatise on ministry that the author ever expected to be read more widely, gives it an immediacy and a freshness. We eavesdrop on their conversation. There are references to people and events we can't know about. But we are better for it. We are drawn into the orbit of their exchange and their love. It also makes the book distinctively different from most of the other more worthy offerings in this overcrowded genre of good advice for others. No wonder several bishops have, for years, been distributing pirate copies of this text to those they ordain.

​From the Foreword by Stephen Cottrell, Archbishop of York (and former Bishop of Chelmsford)